Everybody has a bucket list these days.
I crossed Namibia off mine last year. I'm taking a group there this coming February if you're interested (more details on our events page here).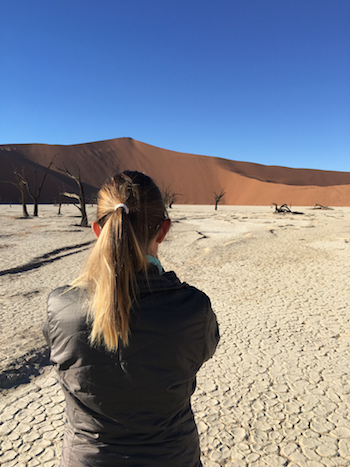 I don't know about you but I do a little dance whenever I cross a new place off. I don't even hear the pencil hit the paper — it's as light as a feather and there's a little wiggle in my chair and a shake of my head that goes with it. Dancing to my own drum I guess.
I asked professional photographer Joe Sindorf where he wants to go next. He does humanitarian work all over the world… often in counties it's not safe to see right now like North and South Sudan and Iraq. But I think it's interesting to hear where well-traveled people like to go and what's on their bucket list of once-in-a-lifetime trips.
His answer was Brazil – in the Pantanal, where you can see jaguars – so you'll see that on our list of workshop destinations next year along with Jordan, one of his current favorite places.
I'd love to hear what's on your list and if you're like me with a little wiggle in your bum whenever you cross one off.
You can leave a comment below. Or on Instagram, here.
I asked one of our most-traveled travel writers to tell you about her six favorite places to go here. Perhaps there's an idea or two in there for you, too.