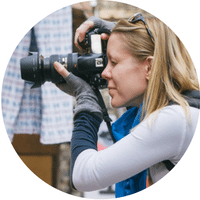 When Reggie Nelson wanted to make money, he decided to take a new approach. 
Instead of getting a job and earning a minimum wage he could barely afford to live on, he drove to one of the wealthiest neighborhoods in town and started knocking on doors. 
When the occupants answered, he asked them for advice on how they amassed their wealth and tips on how he could do the same.
One door opened that day and behind it was the CEO of a large business.  He invited Reggie in and offered to mentor him because he liked Reggie's initiative.
Reggie was so excited he showed up an hour early the next day.
Two weeks later, the CEO offered him an internship at his company.  9,000 other people applied.  115 got in.  Reggie was one of them.
Since then, Reggie has gone on to graduate college and climb the corporate ladder of a big financial firm where he sometimes gives lectures to young people on how to take initiative and accomplish great things in the financial sector.
When I read this story I was reminded of the power of decision, action and showing up early.
James Clear, the author of Atomic Habits, says: "Rome wasn't built in a day, but they were laying bricks every hour." 
The problem, he continues, is that we overestimate the importance of building an empire and underestimate the importance of laying another brick.
And isn't that so true? 
Take a minute today to place a brick that builds your own empire.
It's been found that setting a timer for 2 minutes, 10 minutes, even 30 is enough to get you started because overcoming the mental roadblock that's stopping you from starting is the hardest part.
Once the timer goes off, you've already gotten past the hard part of starting and you're likely to continue.
So what will it be?  Which brick will you lay today to start building income?