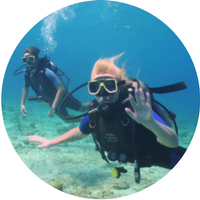 I was a lobbyist for 10 years. Sometimes I'd travel to different states to testify in front of legislative committees or speak at town hall meetings. But, most of the time, I sat at my desk, reading and analyzing legislation, communicating with politicians, writing newsletters, press releases, and action alerts, and sending emails to educate people who would be impacted by the impending regulations.
It will probably come as no surprise, but the part I liked most about that job was the travel.
Every time I traveled to a new state to testify and meet with politicians, I'd add on a couple days either before or after so that I could experience what that state had to offer.
One day I had an epiphany. I asked myself, "If I can get published writing about something as dry as government regulations, surely I can get published writing about travel!" Something people actually wanted to read about, right?
That thought became my Ditch the Desk Plan. I did a bit of online research about how to break into travel writing and came across The Ultimate Travel Writer's Workshop for new travel writers offered by Great Escape Publishing. It was in Chicago that year.
It was quite an investment for the workshop plus flights and hotel… but for my entire adult life I've always believed that's it's important to invest in yourself to attain your dreams. So I hit the button.
As I sat in my seat at that weekend conference, I could not believe what I was hearing. One after another, each speaker delivered insider secrets and exactly the kind of information I was looking for. I knew right there, in that seat, that I WAS going to be a travel writer.
Here are just a few tricks-of-the-trade that I got from the workshop:
• How to write a saleable article
• What to write (and what not to write) when you pitch a story to an editor
• How and where to get your first bylines
• How to land perks and press trips
• How to find magazines that want your stories
• How to get assignment letters
That was in 2011, and I can honestly tell you it was one of the best investments I've ever made in myself.
Since then, I've been to more countries than I can count—and almost always someone else foots the bill.
I've checked a lot off my bucket list, too. In the last two years alone, I've gone scuba diving at the Great Barrier Reef, climbed the Great Wall of China, hiked at Machu Picchu, and stood mesmerized before the Taj Mahal.
I've stayed at five-star hotels and been treated to fine dining while exploring amazing European cities like Prague, Budapest, Dubrovnik, Odessa, and Stockholm.
Exotic tropical islands? You bet! Don't even get me started…
I could talk for hours about the islands I've visited, but Bora Bora goes down in history as my all-time favorite.
And that's not all… when I get back from each fabulous trip, I get paid to write about it!
I will never, ever go back to a desk job. I absolutely love my life.