As a self-confessed lover of travel and all things related, it's little wonder the idea of living on a yacht and sailing the world appealed to me. I wasn't a sailor when I watched the documentary that changed my life. I was a government employee, living the 9-5 existence, entrenched in the rat race, surviving not thriving.
It was the story of the youngest girl to ever sail solo around the world that sparked my interest, and the seed was planted, the idea unshakeable, the lure of a different way of life too strong to ignore.
I had never owned a boat and had absolutely no idea how to sail around the world, or how I'd afford it for that matter. Yet, I didn't let that stop me.
For two years and two months, my dedication to my goal boarded on obsessive. I sold most of my possessions and I applied for a promotion, working overtime where I could. I rented two rooms of my home to international students, sacrificing my privacy and space for my dream.
Month by month my bank account grew, along with my determination, and I was able to save more than I could have ever imagined. With my house rented out and my affairs all in order, I flew from my hometown in Australia to the Caribbean island of Grenada, delirious with excitement. My new yacht was waiting for me and little did I know, so was my new career.
An amazing thing happened when I discovered the liveaboard lifestyle. Sailing from country to country with my own home and all of my belongings was the perfect balance between a life of full-time travel and one of comfort and routine.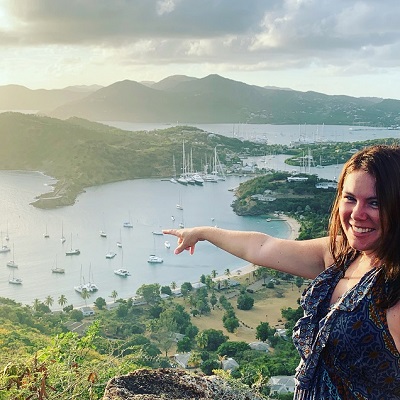 I didn't have to pack or unpack each time I moved on, and I could sleep in my own bed each night. I had all of my belongings and creature comforts at my finger tips, without carrying them on my back. I wasn't restricted to a 20kg weight limit, and I could plan my itinerary as I pleased, not worrying about flight schedules or train timetables.
Sailing was not just a means to an end; it was a genuinely enjoyable way to get from A to B.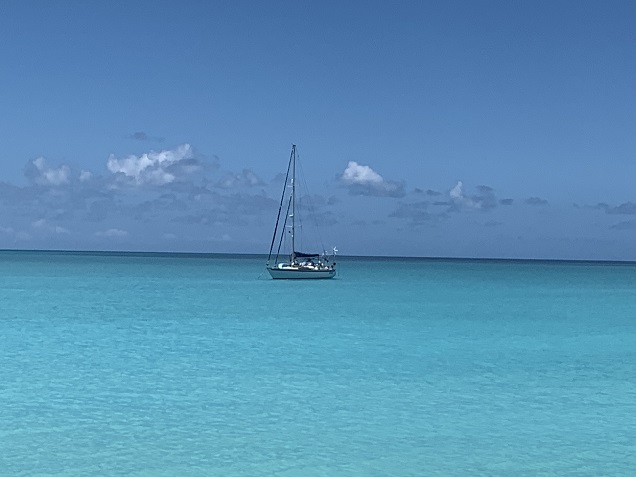 Most importantly, sailing allowed me to travel to and from each country by the power of the wind. I could cross oceans and visit new continents, cities or towns no matter how far-flung or remote.
I would swim in water so clear, I could see my toes as tropical fish swam around my ankles. I could snorkel over reefs so abundant with life, one would never have believed the oceans were in trouble, and I could hike lush tropical mountains, swinging from vines and bathing under waterfalls.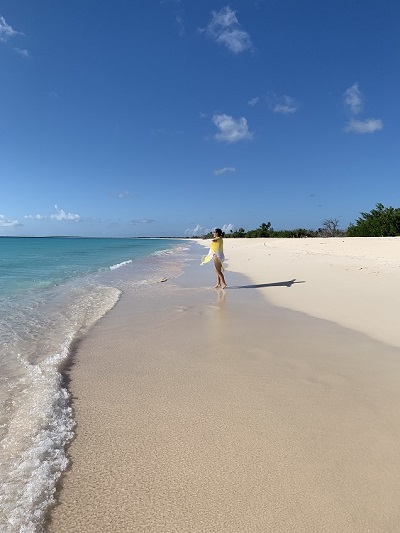 In the mornings I could run along white, sandy, palm-tree-lined beaches; in the evenings I could drink cocktails adorned with umbrellas while watching the sun melt into the sea. I was free; I was living my dream.
So why did I feel I was missing a sense of purpose?
Not surprisingly, living on a boat required funds, not only for the initial outlay but in ongoing maintenance. Faced with the prospect of either heading home or coming up with a way to continue to fund my lifestyle, I discovered my love for writing.
Putting my thoughts and observations, my heart and my soul into words was as foreign to me as sailing, yet with feverish dedication I started writing about my experiences.
The pink sand I lazed upon in Barbuda became inspiration for my first article, and, when I saw my name in print in the Caribbean Compass, I was over the moon.
I wrote about bathing under waterfalls in St Lucia and my hike up an active volcano in Martinique. And as my collection of bylines grew, a dream I never realized I had, came to fruition.
Working as a travel writer was fulfilling in ways I had never imagined. To travel with a purpose and wander with a childlike inquisitiveness has allowed me to grow in ways my old self would have never dreamt possible.
Life is less complicated on the water, my priorities are clear, my dreams unshackled.
Becoming a travel writer didn't happen overnight. However, one part of my personality that has made me successful in this business—because that's how you have to think of it—is my tenacity and determination.
It's a numbers game. The more pitches you send out, the more articles you write, and the more effort you put into networking and self-promotion–the more successful you will be in this field.
Luckily for me, I am surrounded by inspiration every day. Each port in which I anchor or each culture that I am welcomed into with open arms is a potential story. Each island whose shores I grace, for days, weeks or months becomes home and leaving is often met with a longing to stay, unlike anything I've experienced before.
Everything I see is viewed through new eyes. I travel with purpose, with clarity of mind and an intention not only to explore, understand, and experience… but also to share, inspire, and excite.