I've been a travel writer for nearly three years. I have explored the globe and written guides, articles, and essays about my adventures and the destinations that I've visited. I'm having the time of my life and my only wish is that I started writing a long time ago.
Being a travel writer means constantly seeking out new material, so I spend much of my time on the road. I've found housesitting to be a cost-effective and fun way to explore the world.
Here are five advantages of housesitting for travel writers:
1. Good Wi-Fi
When you stay in a house or apartment, the Wi-Fi is often more reliable than a hotel—and usually free. This is especially important for writers who have deadlines to meet and need to correspond with editors.
In hotels, Wi-Fi is frequently inconsistent and sometimes nonexistent, and in certain countries, you pay extra or are given limited access and bandwidth. Housesitting solves this problem.
2. Pets
Many housesits involve caring for a pet. For animal-loving writers, having a pet nearby can be relaxing and mood enhancing. If you are caring for a dog, taking it for a walk can be a good excuse to get away from the desk for exercise and to clear your head. I always return feeling refreshed and ready to work.
3. Living like a local
When you housesit, you become a part of the local community and enjoy a more authentic experience. For a travel writer, this is the perfect way to gain insight into the area and locals where you're staying.
In the past, I have been invited into neighbors' homes, attended parties, and received tours of lesser-known neighborhoods. Not only were these activities great fun, but they also provided me with excellent writing material.
4. Properties worth writing about
It's possible to secure a housesit on a houseboat, in a castle, or at a ranch—there are many off-the-beaten-path options. Staying in unusual properties can provide you with inspiration for your articles.
Imagine a housesit on a houseboat in Amsterdam. The perspective compared to more conventional types of accommodation could inspire an article that motivates readers to visit the city.
Or you maybe you would prefer to housesit in an Italian castle. The experience could push you to research the local history and produce a piece with a unique focus.
5. Improve your writing habits
Instead of staying in a sterile hotel or motel room, when you housesit you enjoy a home and all its comforts. You can prepare your own meals and lounge in the backyard between writing sessions.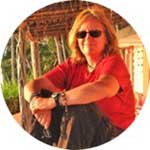 Early on in my travel writing career, I spent winter in a house near Toronto on Lake Ontario. Long-term housesits are very conducive to forming a disciplined writing routine (especially when it's snowing outside), and I completed more writing than I ever had before. During that period, I had time to focus on my writing without distractions, hone my skills, and lay the foundations for becoming a great travel writer. 

Housesitting has served me well. Not only has it exposed me to local cultures that I wouldn't otherwise have the privilege of experiencing, but it has also helped me on my travel writing journey.