One of the questions I'm asked most by people starting out with earning from videos is: "Where can I get free music for my videos?"
Here's the answer…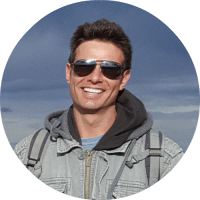 The In-Built Editing Feature on Your Phone
When you use the video editor that comes with your phone it automatically adds music and titles to your video clips. The music options you are given are all royalty-free and no attribution is required.
They are very generic, but if you use them, you do not have to worry about copyright infringement. Spend some time looking at the different options, which are usually categorized by mood.
This feature exists on both Androids and iPhones. In my course, Travel Videos for Profit, you will find in-depth video tutorials for both types of phones so you can activate and use this incredible feature.
The YouTube Audio Library
The YouTube Audio Library is, in my view, the most convenient option with plenty of choice.
To use it you need to be logged into YouTube and have set up a YouTube Channel. Once logged in, click your profile photo in the upper right corner of the screen and then click YouTube Studio in the menu that appears.
Inside the YouTube Studioyou will find the Audio Library at the bottom of the menu on the left.


As you can see from the screenshot below, when you click on "search" or "filter library," you can search by Genre, Mood, and Attribution among other things.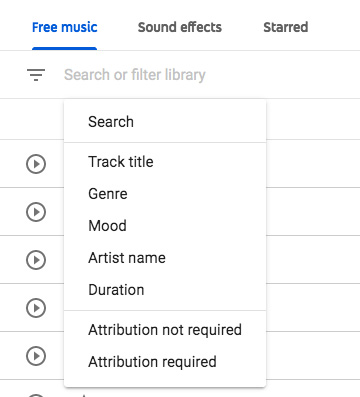 Attribution refers to the type of license and whether you need to mention the artist and the track in your video description. Most tracks don't require attribution, but some would like you to mention the artist. You don't have to add this to your video but merely write it into the description.
You can listen to a sample of the song and then download it as an mp3 file. It's very convenient and fast.
The Free Music Archive
Another great source for royalty free music is the freemusicarchive.org.
This archive provides a much wider range of options, but you need to review the specific conditions for use before downloading the song.
This site also allows you to listen to a sample and download the song without creating an account.
Note: If you use copyrighted music registered in the Content ID system that YouTube employs to identify copyrighted music, the copyright owner may decide to:
Mute your video (the video is still available but no audio)
Block your video (the worst case—this will likely penalize your channel)
Monetize your video by running ads (you won't be able to monetize)
Track the viewership statistics of your video
However, if you are really set on using a commercial song for a personal video, like a family event for example, then you may use another video hosting system like Vimeo, because, so far, they have not flagged videos using famous songs.
I hope you found this article helpful. If you want more insider tips on how to make money with videos, check out my Travel Videos for Profit course.