The start of a new year is always a great time to set some new goals to help yourself grow, both artistically and professionally.
I find that goal-setting always helps me "up my game." So, going into the holidays, I set a goal of my own.
For the holidays, I offer my clients mini-shoots at a reduced fee. In the past, some of these clients have agreed to sign a model release to save $100 off their picture package. This allows me to use some of these photos as stock, if I so choose. My goal this year was to submit five pictures from every holiday photo shoot to a stock agency.
In doing this "experiment," I picked up some good ideas about getting portrait shots that can also make for stock photos with great potential. Here's what I found…
Capture a moment.
When you're shooting babies and small children, you have to be quick. Little ones move fast and don't want to sit still!
When shooting families, I go after a great portrait that they will love. And then I try to get some other images that capture a moment to submit to stock. 
Here's a sweet moment. The actual family portrait for these folks would not make a good stock picture (it showed too much cleavage). But this one is much better.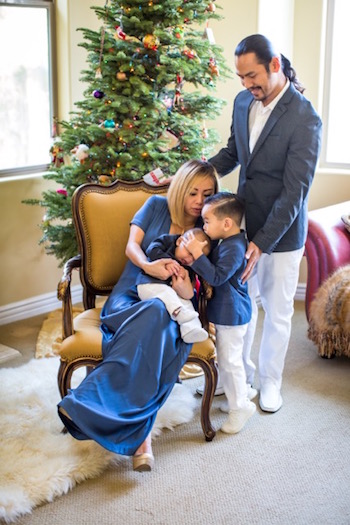 Diversity works well with stock photos.
The world is full of all ethnicities and stock photography should reflect this. I've found that images of people of Asian heritage tend to sell very well in particular. 
I was very happy with this portrait of a beautiful Filipino family and have submitted it to a stock site.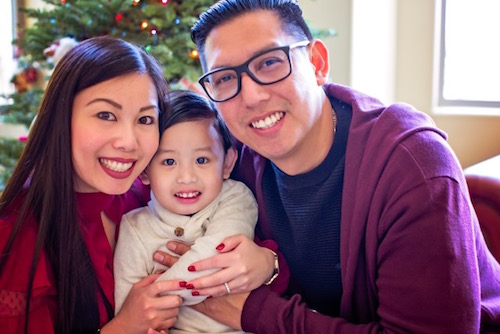 Don't limit yourself to indoors.
Holiday portraits don't need to mean just photos of families smiling in front of a Christmas tree.
For an unusual and eye-catching shot that will work just as well as stock as on a family Christmas card, go outside!
Luckily, we had a December day with perfect weather. My clients agreed to meet me shortly after sunrise to capture both the beautiful light and a relatively empty beach.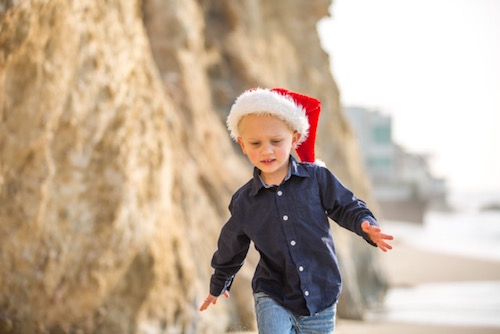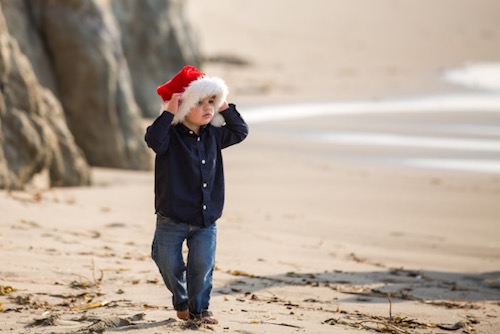 Don't rule out self-portraits.
After all of my client shoots, I had a Christmas cookie baking party. It was also in my goals to get a few saleable pictures from that event. A few of my friends were feeling camera-shy, so I turned the camera around on myself…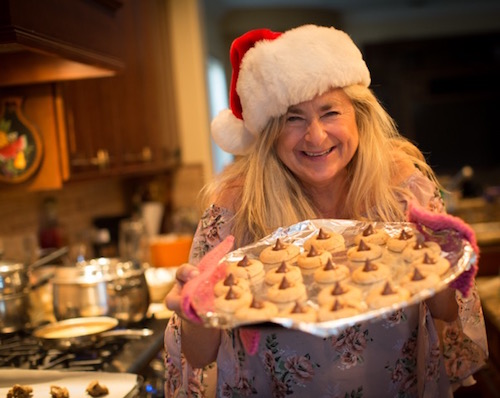 Time your stock submission.
Editors highly encourage you to submit seasonal pictures right after the holidays, since buyers will often buy at that time for the next year's campaign. So now's the time to start uploading any you took this past year for the ones coming up!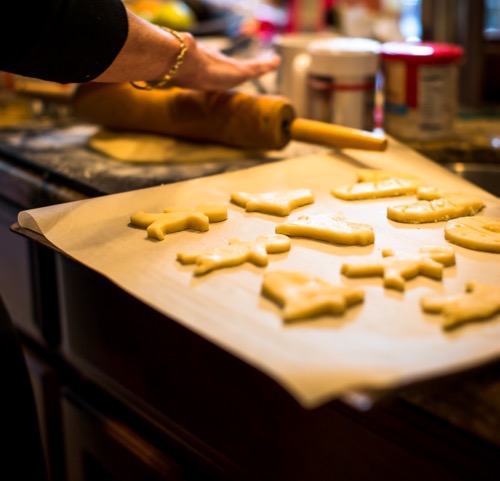 Once I started editing, I had surpassed my goal and submitted 25 pictures to my stock agencies. 
Whatever your goals are, I encourage you to include taking more pictures. Set a number of how many stock pictures you want out of a shoot. Most likely, you'll surpass that, too.