What do you hope to accomplish with your photography?
Maybe you'd like some extra income… To see your photos printed in a magazine… Or simply to hear someone say, "Wow, you're really good at this!"

I wanted all of those things in the beginning. But after 10 years of building my skills and selling a lot of photos, I now realize that those skills bring me something else that's even more valuable.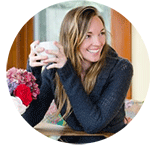 Sure, I've been paid to lead photo workshops in India… France… Peru… Thailand…

To shoot a wedding in Hawaii…

And to photograph a new safari camp in Tanzania.
One trip had me running around barefoot before dawn in front of the Eiffel Tower… another, waiting silently for a jaguar to slink out of the Brazilian jungle.
The adventures photography can take you on are incredible!

But you know what's even better?

It's the ability to document cherished moments in your life at home.
Through learning what makes a good photo and practicing often (plus a lot of playing and experimenting—sometimes barefoot), I now have the ability to go camping and come home with a photo worthy of hanging on the wall.

Something I could never do before this journey began.
For example…

Over the summer, my husband and I hiked to a lake… set up camp… slurped down some warmed-over dehydrated food… and waited for the day hikers to disperse.

Early the next morning, we had the lake all to ourselves.
So, I took my time looking for a shot to document our time together and maybe even print for the wall.

Here's my favorite shot from that morning: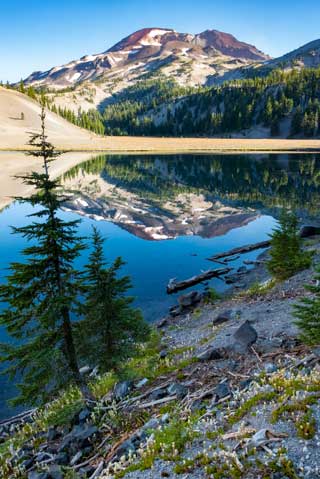 The thing is, it only took a few minutes to shoot this photo. And it's rather simple. But there are a lot of skills that go into it.

Things like:
1. Knowing the best time of morning to shoot with good light.
2. Looking for details, like shooting before the light hits the lake, which kicks up the wind and ruins the reflection.
3. Finding a spot with trees for framing and flowers in the foreground.
4. Trying a bunch of different compositions before landing on this one, making sure to get the full reflection of the mountain in there.
5. And finally, knowing how to expose it so that I can bring out the best parts of the image in Lightroom.
When you don't have those skills, it's easy to take a shot or two and then walk away…because you don't know how to make it better.

If I had walked away after the first shot, I would have ended up with this instead: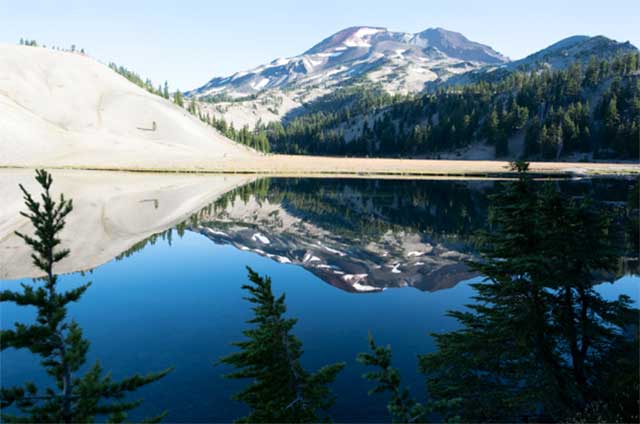 It documents the day. But it's not special. And I certainly wouldn't print it for the wall.
Once you start to develop the skills you need to purposefully take great photos…there's no telling where they'll take you.

And it could be that they give you the ability to make your everyday experiences at home more beautiful, too.