Before retiring, I made my living as a registered nurse and surgical instrument sales rep for more than 40 years. Along the way, photography became my passion—with a focus on farm and ranch photography, and, more specifically, horses.
I began selling my work to books and magazines and uploaded my photos to online stock agencies. To date, I have sold more than 11,000 images online with income of about $40,000. 
That's where the real stock photo success story starts. 
On Dec. 7, 2016, I suddenly started getting emails and texts from people who wanted to buy the image on the cover of the National Geographic Holiday Catalog. You can imagine that my knees went weak and my hands started to shake. "What image?!" I asked each of them. Everyone was incredulous that I didn't know. At last, someone texted me the cover shot. I could finally see what they were all so crazy about.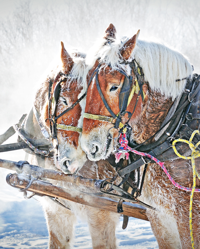 The image was one that I loved, but it had been in inventory at iStock for more than three years with only minimum sales. 
Sometime in early 2015, Nat Geo bought it with an extended license, and 18 months later, it appeared on the holiday catalog. It was one of three different covers they used. Thankfully, they followed the contract with Getty/iStock and published my name on the back of the catalog, giving me credit.
My world literally turned upside down… in a good and crazy way. Orders for prints started pouring in. I couldn't answer emails or phone calls fast enough. It took my dear husband and me about six sleepless weeks to get all the orders filled. Orders continued to come in regularly until about June. Now, I get an order only two or three times a month. The print sales have almost reached $26,000.
During the first week of craziness after publication, another nurse—now a famous quilter—contacted me and wanted to buy a license to make the image into a quilt. We came to an agreement, and she began work immediately. Each week, Kathy McNeil would send me updated images of the quilt as it came together. After more than 400 hours of work, she entered the quilt in the largest quilt show in the U.S. What a masterpiece!
She asked me if I would come stand with her in her booth as she campaigned to win Best of Show. I agreed and met her there in September. She won! Almost $25,000. I cried for an hour, I was so happy for her.
A few days after I got back home, a FedEx package arrived at my door. My new and dear friend Kathy had sent me part of her winnings. Another round of tears of joy. A beautiful end to the story of "all you need is love."
Can you imagine all of this from just one image uploaded to an online stock company? It's been more than a year since that first phone call, and I'm still smiling.