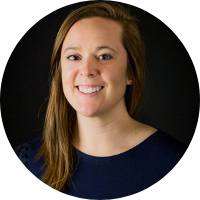 In college I spent a semester studying abroad in London, and as a gift, my parents bought me a point-and-shoot camera.
It was small enough to fit in any bag and light enough for me not to make excuses about carrying it wherever I went.
From that point on, my camera never left my side. I snapped photos of friends, weekend trips, ceremonies, fall leaves (I grew up in Los Angeles where we don't have seasons), and developed a true love for pictures.
Fast-forward four years.
I got a job here at Great Escape Publishing running events. I'm sitting in the back of a ballroom one day at my first Ultimate Photographer's Workshop, eavesdropping on some of the presentations, and learning that you can actually sell the kinds of images I was already taking.
Before joining Great Escape and attending this workshop, I thought only "professionals" could sell their work.
So, I scribbled down as many notes as I could and listened to all the different outlets there were to sell photos.
Photobooth photography caught my eye. I loved the "fun" aspect of setting up a photobooth, and they're extremely popular right now. Plus with a full-time job, it seemed like a good fit. The whole process is over and done in a single night's work with just a little bit of pre-planning.
Michael, the presenter on stage, showed pictures of people laughing, getting dressed up, and truly enjoying themselves, and that was something I wanted to be a part of. So, I took his advice and tried my first photobooth with friends at a surprise birthday party.
Here was my simple setup: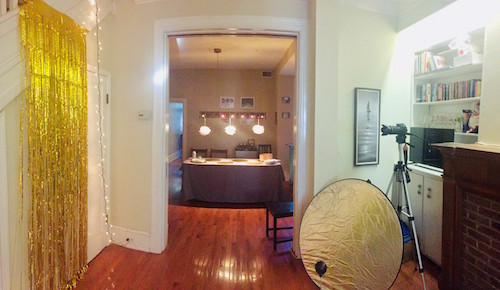 As you can see, there's no actual "booth" required. Here's how I did it:
• I set up my camera on a tripod—I've graduated past a point-and-shoot and now own a DSLR. 

• I bought a remote shutter and tethered my TV to the camera using Michael's instructions, and even more so, Google. I wanted my friends to see the images they were taking on the TV as soon as they pressed the shutter button. 

• For light, I set my desk lamp on the ground and pointed it at a reflector. 

• I added a tinsel backdrop (which ended up being a little too small) and took some costume items out of my closet for friends to use in pictures.
The photobooth was a hit! Everyone was snapping pictures the whole night and asking me when we could do this again.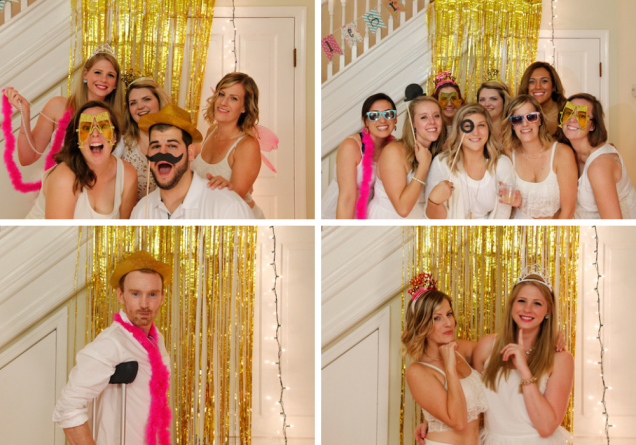 So, a few months later for Halloween, I tried it again with some tweaks. And again, it was a hit. My friends were laughing, joking, and having a great time…



After the Halloween party, one of the guests called to offer me a PAID gig setting up a photobooth for her company Christmas Party.
Without thinking I said yes, absolutely!
After hanging up the phone, though, I thought, "Why did I say yes? I'm not a professional. Can I really do this?"
As each week passed before the Christmas party, I kept reminding myself that I could do it. I imagined this was simply another party with friends.
So, the night of the event, I packed my things, headed to the venue, and set up the photobooth before guests arrived. I took some test shots with the venue staff, which not only helped me prepare, but also helped them loosen up and get in a few good laughs before work.

As guests arrived, they slowly trickled over, and after a while, a line formed of those who wanted to take pictures at the photobooth… at my photobooth!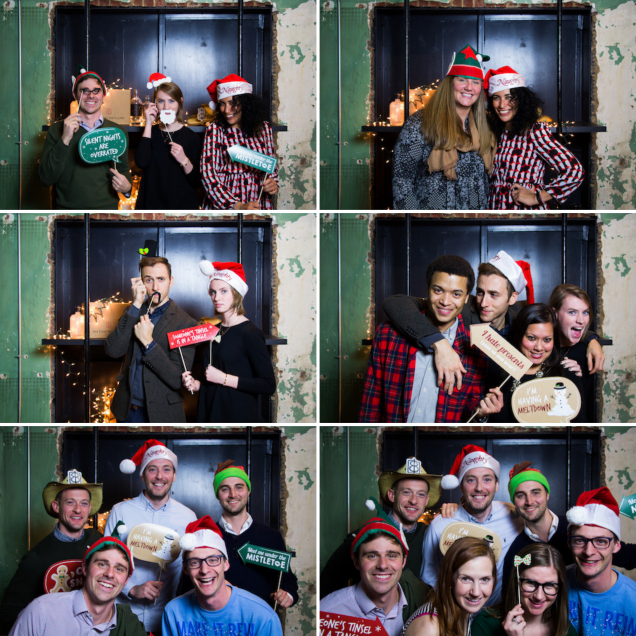 I couldn't believe it.

I was paid $200 for my two hours at the party, and it was well worth it.
I enjoyed free food and drinks, and before the party, the company bought me a new soft-box light and stand I could use to replace my rudimentary desk lamp-reflector-lighting kit!
By the end of the night, I not only walked away with my first photo paycheck, but also a new-found confidence. And my desire to create a fun atmosphere for folks to let loose has since transferred over to different kinds of photography, too.
These days, in addition to the occasional photobooth setup, I've been asked to do engagement shoots, headshots, family photos, and more. None of which would have happened if I didn't utter that incredibly scary word—yes—to my first paid gig as a photo booth photographer.
And none of which would have happened if I hadn't learned at the Ultimate Photo Workshop that it's possible to sell photos even if you're not a pro.
People sometimes think only the best survive in the world of art. But if that were true, we'd never see bad photos or bad writing.
The truth is, you have to start somewhere. Ignore the naysayers in your head and just do it. That's what I did, and I love my little side-gig.