Shaded from the scorching sun by rustling coconut palms and cooled by a light sea breeze, we're sitting on wooden benches at a beachside eatery with our bare feet caressed by soft sand. Lunch of the day is spicy som tam (Thai green papaya salad), freshly caught grilled fish, and massaman curry with rice, washed down with icy watermelon smoothies.
Traditional long-tail boats, tethered to the shore by long ropes, dance on the ebb and flow of the tide as waves gently lap the beach a few feet away. Further offshore limestone karst islands and cliffs rise from the ever-changing hued sea of Phang-Nga Bay in southern Thailand.
This isn't just some far-off dream. This is my reality while living on the peaceful tropical island of Ko Yao Noi (Little Long Island). I'd visited a couple of times during my years living on Phuket, a popular tourist destination and Thailand's largest island. Now Ko Yao Noi is my home.
In 2013, I spent a few relaxing days with a friend on Ko Yao Noi. We stayed in a rustic waterfront wooden cabin shrouded by foliage on a tree-covered cape with spectacular sunrise views across iconic Phang-Nga Bay.
We lazed in hammocks sipping chilled beer and tropical fruit smoothies as the high tide water sloshed beneath the raised wooden deck. A narrow beach of golden sand stretched between coconut palms rimming the seashore and tracts of rock with glistening pools of seawater exposed by the receding tide.
Seaward, jagged karst landscapes jutted against the horizon, either magnificently etched by cobalt blue sky, mysteriously veiled by dark rain clouds, or bathed in the vibrant pink or golden palette of sunrise and sunset.
This image is one of many I shot during that trip as I strolled along the shore at dawn high tide: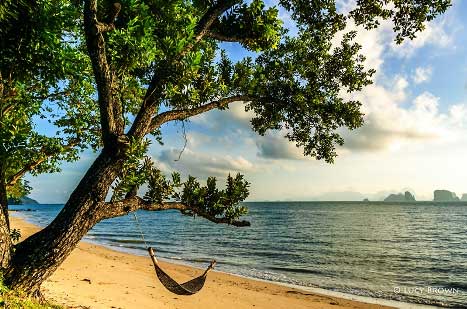 Here I captured the golden sunrise glow illuminating a tranquil beach scene. A photogenic hammock hanging from a tree over the sand made an eye-catching subject while dark rocky crags adorn the skyline in the background. It has since become one of my bestselling and highest earning Thailand stock images at Shutterstock.
While living in Phuket, my brother and his wife visited me from the U.S. and his sister-in-law from Mongolia. After a few days exploring the beaches of Phuket, we headed up to stunning Khao Sok National Park about 100 miles drive north of Phuket on the mainland of Thailand.
In the heart of the national park, surrounded by the largest area of virgin forest in southern Thailand, is the 71-square-mile Cheow Lan Lake. We spent a magical few days in floating bamboo raft huts against a backdrop of towering pristine rainforest. Accessible only by boat, it was remote and unspoiled.
One morning I shot this image of traditional Thai long-tail boats moored alongside the dock with craggy karsts and jungle greenery reflected in the glassy water: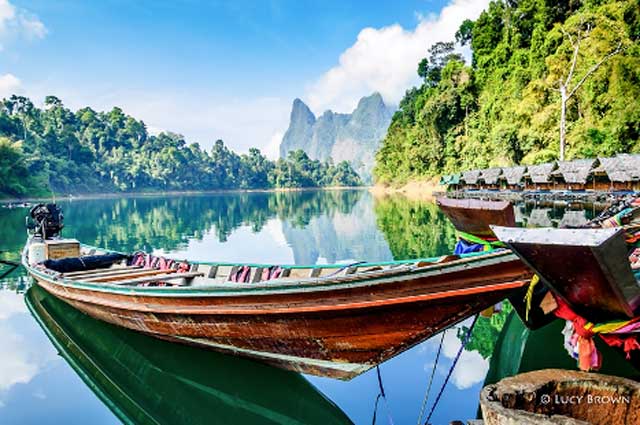 This is another best-selling stock image at Shutterstock and Alamy.
We explored caves, kayaked, and swam in the deep, balmy water in front of our floating lakeside huts. Dawn and dusk boat safaris offered us glimpses of wildlife and an opportunity to photograph the enchanted watery world bathed in soft sunrise and sunset hues.
Our long-tail boat puttered slowly across placid waters through a dramatic, otherworldly landscape of limestone karsts draped in verdant vegetation, tiny, lush islets, and submerged mountain peaks jutting out of the tepid, emerald-green water.
We trekked through the ancient, humid rainforest, removing a few leeches along the way, accompanied by a cacophony of monkey and gibbon howls and chatter; hornbill calls and exotic birdsong; and a myriad of piercing insect whines, shrills, and whistles. Arriving at a lofty lookout with spectacular views over the emerald lake and dense green tropical canopy, I captured this photo: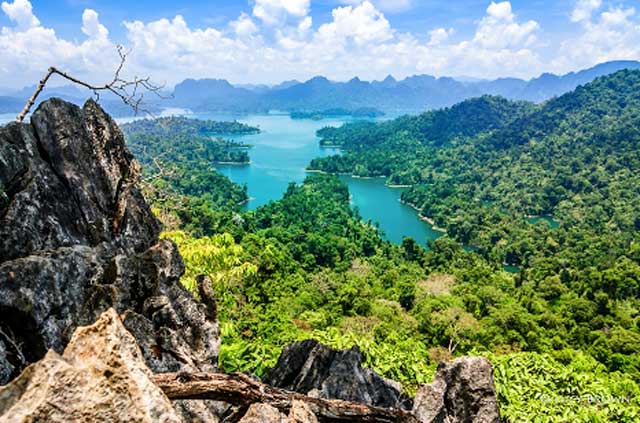 It has since become another top performing stock image at Shutterstock.
During trips like these I'm constantly on the lookout for saleable photo material and shoot intentionally for that purpose. Afterward I upload my photos to my laptop then process, keyword, and caption them in Adobe Lightroom. I upload them for sale as stock images through various online agencies, or as fine art through Fine Art America, Saatchi Art, and my own website. These images and others shot during my trips continue to sell regularly, and along with my more recent photos, earn me income that helps to pay for my adventures.