Twilight is probably my favorite time of day to take photographs. It is that fleeting interval between night and day, both before the sun rises and again shortly after it sets, when the sun lies just below the horizon. It overlaps with both part of the golden hour—that magical time when warm shades of yellow, orange, and pink color the sky—and the blue hour when the sun is further below the horizon, lending an ethereal feel to the landscape.
The sun may be below the horizon but its glow is still visible, illuminating the atmosphere's upper layers and casting enough light to photograph the landscape, though it is helpful to use a tripod as it gets darker, or bump up your ISO.
Depending upon weather conditions, your location, and the time of year, this captivating interval can last less than an hour.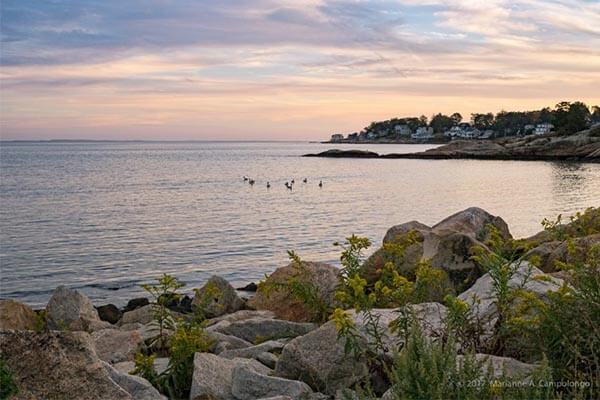 It is especially beautiful by the water. As the sun dipped below the horizon in East Lyme, Connecticut, the colors faded to soft pastels, lending the landscape a dreamy feel. Finding a focal point, such as a boat, someone fishing in the distance, or, as here, a flock of geese adds interest to your composition, as do the jetties in both the foreground and background. As you frame your image, be careful not to place your horizon in the dead center of your photo since that can make it look static and boring.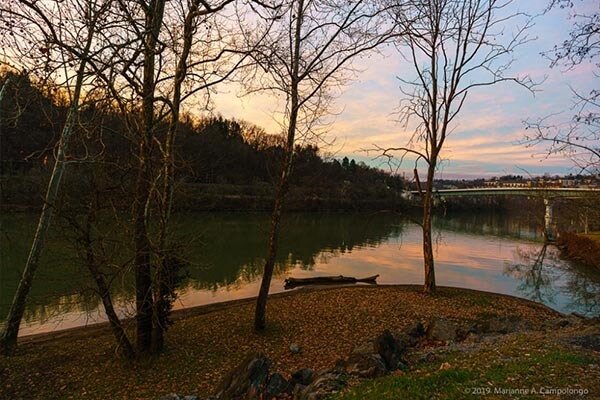 Even if you live or travel far from the sea, you can still take advantage of reflections in water as this image of the Monongahela River in Morgantown, West Virginia, attests. The lights of the town in the distance add additional interest. The sun had been below the horizon for a while, yet it was still light enough to capture fine detail in the foreground. As bright as this colorful scene was, eight minutes later, the color faded without even a hint of blue.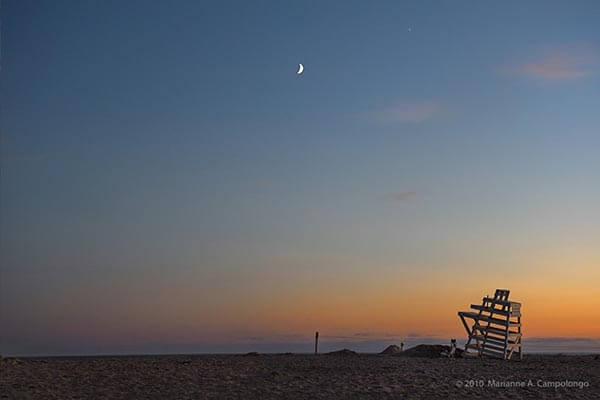 The sky in this Southampton, New York beach scene is perhaps the quintessential "blue hour" blue, a rich, velvety, almost otherworldly color. The moon was high in the sky and quite tiny in the frame, so I concentrated on exposing for the foreground, leaving the moon overexposed, but its bright crescent shape with the glimmer of Venus to the right, add interest to the composition. This photo has done nicely as a travel stock image, due to both its popular location and plenty of space for copy, earning as much as $75 for each single use.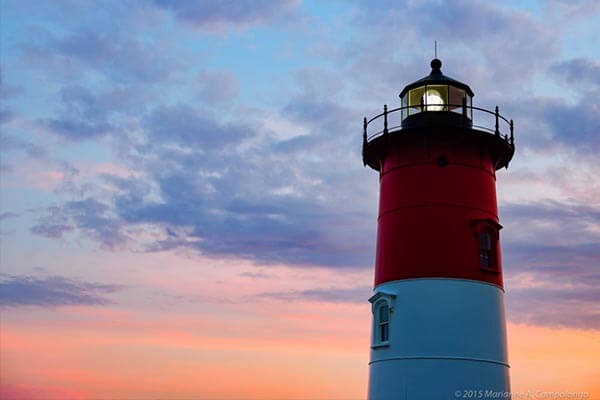 I am always on the lookout for lighthouses in my travels. I visited several on this particular trip to Cape Cod, Massachusetts. After scoping several out during daylight, I decided this one, Nauset Light in Eastham, would be a perfect place to return at night. I arrived about an hour before sunset and stayed until it got very dark. I shot with a tripod from various angles. This simple yet powerful composition, with contrasting orange streaks against the dark blue sky, is one of my favorites. It was featured in a show at a Fortune 100 Company and the original sold during the exhibition. It has also been licensed as stock, earning me several hundred dollars.
Although I live in New York on the East Coast, I am glad I had done my homework before traveling to Cape Cod and learned that, due to its extreme eastern latitude, autumn sunset there is nearly 20 minutes earlier. There are many apps and websites where you can find this information to help plan your shoot.
Traveling in a city, you can usually rely on streetlights to guide you, but out in the countryside, keep in mind that the colorful evening sky can fade quite abruptly, leaving you caught in the dark if you are not prepared. Having stumbled back to my car with only the weak light of my cellphone to guide me after a twilight shoot in a wooded park, I don't recommend it. Now I keep a small headlamp in each of my camera bags. A national hardware chain in the U.S. sells a three-pack for about $15. This inexpensive hands-free solution provides enough light for me to find my way and also helps if I need to find something in my pack, fidget with a dial on my camera, or change lenses.
[Editor's Note: Learn more about how you can fund your travels and make an extra income with photography, travel writing, blogging, and more in our free online newsletter The Right Way to Travel. Sign up here today and we'll send you a new report, Three Fun Ways To Get Paid To Travel: A Quick-Start Guide, completely FREE.]