This full-body pose is the quickest way to look slimmer in photos – and it works on almost everyone. 
Just flip through a beauty magazine and you'll see models and celebrities doing it on every page. Here's how to do it, step by step:
1. A person's body positioned at a 45-degree angle appears 25% slimmer, so the first thing you'll want to do is turn your shoulders slightly away from the camera and look back toward it. Forty-five degrees isn't the absolute best for everyone, so try a few shots to see which angle works best.
2. Stand with one foot in front of the other with the toe of the front foot pointed forward.
3. Place all of your weight on the back leg.
4. Make sure you bend the front knee a little and that the back knee is not locked or hyper-extended back.
This pose reduces bulkiness in the hips and thighs and is a very slimming and universally flattering pose.
Bonus tip: Don't forget to stand up straight, shoulders back, and hold your arms away from your body slightly to reduce the appearance of arm fat. Take a look at these two models, for example…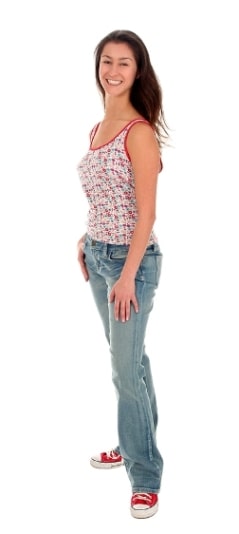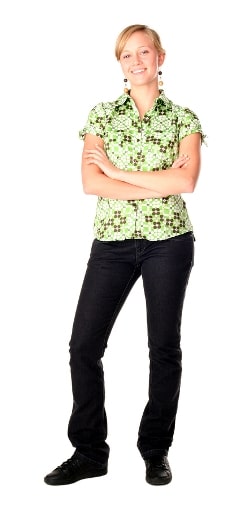 They're both thin models, but the first one, standing with her arms crossed and her shoulders pointed straight at the camera, looks a little boxy. 
The second one, however, looks light and airy. 
She's doing everything right, here. Her body is positioned at 45 degrees and her head is turned back to look at the camera. 
All of her weight is resting on her back leg, with her front leg out in front of her, the knee slightly bent, and her toe pointed towards the camera. 
She's even holding her arms out from her body ever so slightly. Again, for people pictures, it's best to also learn how to:
Dress your model (or yourself) in the most flattering colors…
Position your subject correctly so you don't throw shadows in unwanted places…
Erase blemishes and wrinkles…
Lighten teeth in Photoshop…
Lighten eyes…
Darken a man's beard to give him a more chiseled look…