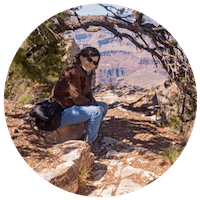 One recent weekend, my friend Luis, a painter, asked me what "success" meant to me as an artist. 
We were at a gallery opening watching complete strangers admire my photography as it hung on the wall. Being there certainly felt like success, as did the fact that it was my fourth show this year, with a fifth to open in October. 
Showing our work, and selling it, we both agreed, is part of what we define as success. But running our businesses so that they can sustain us is the ultimate goal.
For me, photography is both art and commerce. And, while fine-art sales are growing, they are just a small part of the "commerce." 
I didn't start out as a fine-art photographer. Although I have loved photography since I was a child, I fell into it by accident. 
I was writing for local publications and was sometimes asked to provide photos to illustrate the stories. Some editors liked what they saw. One hired me to shoot their ads and another to shoot covers. This local exposure coupled with my editors' recommendations led to work for local businesses' brochures and websites. 
Now, as a professional photographer, I'm lucky to be able to wear many hats: fine artist, commercial photographer, photojournalist, travel photographer, portrait photographer—the list goes on. 
One day, I'm covering a book-signing by a former U.S. president, the next I'm cruising along the Baltic Sea between Sweden and Russia, then I am back home photographing a 100th birthday party. 
I love the fact that every day is different, and, being my own boss, I can decide what direction I want my work to take. 
With each year, my success grows in both monetary and other ways. 
Mixing art and commerce
Art and commerce often overlap. I sometimes enjoy experimenting with digital paintings in Photoshop. One of my experiments, the psychedelic butterfly below, appeared in Scientific American.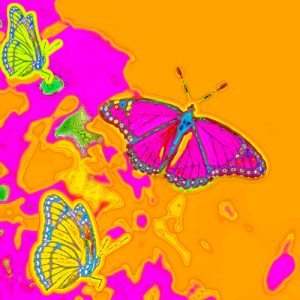 Another was my highest single photo license: $750 for a one-year use. 
Getting my work accepted regularly and being recognized by curators in whose galleries I have shown work feels good. 
In addition to my friends, I now have a small but dedicated group of people who regularly attend my shows and buy my work. This recognition is a strong motivator, as is seeing a significant uptick in my fine-art sales earnings. 
These sales have grown significantly in the past two years, both through brick-and-mortar gallery shows and online—thanks to active social media and print-on-demand sites.
Stock photography sales and travel
In stock photography, instead of hiring a photographer, a business licenses a photograph that already exists. The beauty is, that same photograph can be licensed more than once, so you can get paid over and over again. Most of my stock photographs are travel-related, letting me combine two of my greatest passions. My travel photos have been licensed thousands of times—for books, magazines, calendars, even puzzles—and have appeared in prestigious national magazines such as Smithsonian, Coastal Living, and Vogue. 
I would take photographs while I travel even if I couldn't sell them. Happily, my travel photographs earn me the most. Within a few months of one short trip to Maryland, I made over $1,000 from just three photos: two metal prints of sails blowing in the wind and a third of the Baltimore Inner Harbor licensed to a calendar company. My best-selling photograph, a Maine lighthouse seen below, was my first calendar image, and has since been published in travel guides, on websites, and even on the cover of a mystery novel.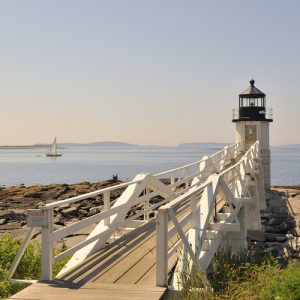 Personal satisfaction
By now, I've had thousands of images published, but I still get a kick out of seeing my work in print.  One recent Saturday morning, two boxes arrived on my back porch with nine calendars inside. In what is now a yearly tradition, each fall, a calendar company I work with sends me copies of the titles in which my work appears. I signed the contracts back in February, so I knew what to expect, but I still couldn't wait to open the boxes and see the finished products.