I've always been a big fan of libraries. Since my gallery and portfolio is made up of "my favorite places," most of which are within five miles of my home, I decided it was time to add my favorite library to the mix.
It's a little over my five-mile circle — 42nd Street and Fifth Avenue in New York City, to be exact.
But this Beaux Arts beauty has the quintessential reading room.
It's almost as large as a football field and sits on the top floor where the tall windows bathe it with gorgeous light from above and the reading lamps on all those tables give it warmth from below.
When I decided to shoot it, however, I confess I made a common mistake when photographing buildings… I spent hours outside, with and without a tripod, trying to get a killer shot of the building.
That's tough to do when it sits on Fifth Avenue surrounded by much taller, much uglier buildings. Forget about beautiful skies — the surrounding buildings are too tall. And unless I wanted to show off the street vendors and taxi cabs, any exterior shot would play second fiddle to the sidewalk and the street.
On the drive home, I started thinking about what attracts me to that particular library and resolved to return, concentrating on taking those shots, instead. My next trip produced the following photos: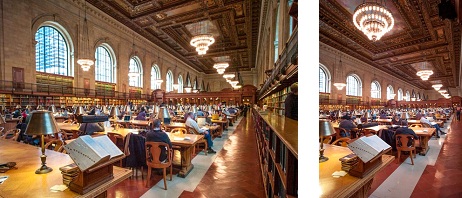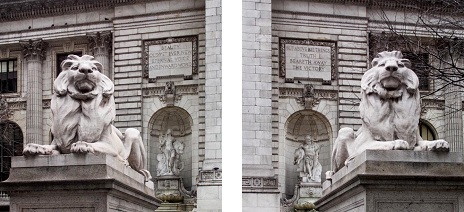 The marble lions that guard the entrance are known as Patience and Fortitude, which I thought was fitting for the situation.
The reading room is a magnificent space. It's a big library, but those elements tell the story far better than any shots of the exterior. The truth was in the details.
I didn't expect to produce any sales from these portfolio additions.
I just felt they belonged in my collection. But clearly I'm not the only fan of libraries. And my community in Connecticut is home to more than one transplanted New Yorker like myself.
The photos from that day have produced several thousands of dollars in sales, including one large framed piece for $650.
I've kept the karma going by using some of the money to buy coffee table photo books.