Just 20 years ago, photography was an activity for the rich or those who had dedicated their lives since college to learning the art. Cameras were expensive and confusing. Fast forward to 2020: cameras are as ubiquitous as smartphones and the photographer lifestyle along with its benefits are open to all.
Yet still, too many of my friends view photography as a leisure activity reserved for those with a "photographer's eye."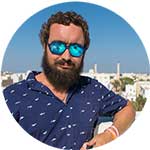 "I'm not at all artistic," they say, "so I only use my phone's camera for selfies." What a waste.
Heed my words, everyone has the capabilities, and now the tools, to be a photographer and take advantage of the many, many benefits that come with the territory. What kind of benefits? Well, let me fill you in on just a few.
Get a room.
Before the coronavirus pandemic, I was one of those blessed individuals who spent most months of the year on the road. During those glorious days and nights of travel, I learned a trick or two on how to effectively use my camera as leverage in exchange for a free bed, sometimes also meals, for a night or two.
As we all know only too well, the travel and hospitality industry took a huge hit during 2020. Hotels continue to struggle through the effects of this long-lasting pandemic. Some have had to close their doors for good while others strive to keep their business alive. As a photographer, you can help these flailing businesses.
Right now, occupancy is low and hotel managers are desperate for new ways to attract more guests. In steps your good self. "Hey, I'm a photographer. I'd love to produce some social media content for your hotel if you'll let me stay a night for free." At this point, with rooms to spare and new guests to entice, how can a hotelier say no? Again, don't set your aim too high at the start. Begin with smaller hotels nearby—you have to work your way up to a free stay at the Ritz.
Get backstage.
Okay, don't get your hopes up too high just yet. Your camera is not going to be a magical VIP ticket that gets you backstage at Coachella; not at first anyway. But it is easy for photographers, new and experienced, to get into local events for free and even experience the action from a backstage vantage point.
These days, any savvy event organizer knows that more cameras covering an event means a greater chance of landing Instagram-worthy shots. Use this knowledge. Offer to be that extra lens on the ground. Get yourself started at smaller events before working your way up to Coachella.
Get some freebies.
By now, you're likely starting to notice a pattern. Your camera is not a magical key that easily unlocks the door to all these benefits. You have to start on the lower rung of the photography-benefits-ladder and work your way up. The same is to be said of reaching out to companies for freebies. You enjoy taking photos of inanimate objects and want to be bequeathed with your subjects for free. That's fair enough but don't expect to start with Rolex watches or the latest iPhone. Do start messaging local companies, and at the start, be happy if they'll lend you a product for a day's shoot. Work your way up the ladder to those truly awesome freebies.
I recently got given a load of camping gear to give away on my travel/outdoors Facebook page, Intrepidlee. I gave away cooking supplies, survival gear, and even a fully kitted-out tent, all in exchange for taking a few photos in the shop and tagging their page on my posts.
As I mentioned, your camera is not a magical key to the freebie closet. But, with a little time and effort, you can turn it into a tool that will help you climb onwards and upwards towards increasingly incredible benefits. Set your aim on a niche, start posting photos to your Instagram portfolio (which you can show to potential clients), and take a photography course to boost your chances of success. Within a matter of weeks, those who dare can reap the benefits.