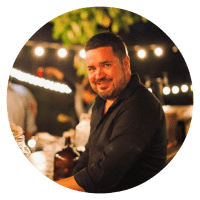 Instagram is one of the most important platforms a blogger can use. More than 700 million people currently use Instagram. Where else can you advertise or promote your brand to seven hundred million people for free?
Many people believe posting to Instagram to be stressful, confusing or too time consuming. But, using automation software, it doesn't have to be. In fact, I spend approximately five hours a week on my Instagram to big reward.
Save Time with Automation
I will typically schedule a week's worth of Instagram posts at a time using automation software called Grum.

With Grum, you can schedule posts from your laptop, rather than your smartphone.
Most of the scheduling apps do not post for you, but instead send a reminder to your phone. Grum automatically posts to your Instagram account, which saves you time. When you're traveling, or attempting to post in peak times (when you may be sleeping), it's handy that Grum will automatically post rather than send you a reminder you may miss.
Hashtags and Where to Find Them
I also keep a set of hashtags—basically keywords that you add to your Instagram posts so people can find them—for different categories that I have already researched on my desktop. That means I can copy and paste them into the first comment of the post… which Grum also automates for me.
For instance, I have categories for food, nature travel, etc., depending on the type of photo I'm posting. I will research approximately 10 of the biggest or most popular hashtags for each category and then another 10 mid-level, or not as popular, hashtags.
This will give me approximately 20 hashtags per category, keeping in mind that Instagram allows for a total of 30 hashtags per photo.
The final 10 hashtags I leave for hashtags that are very niche to that specific photo, such as the part of the world the photo is from, or branded hashtags.
You can research hashtags on Instagram by searching the keyword and noting how many posts it has. Or, you can use a hashtag research tool such as Focalmark—personally, I generally prefer to research hashtags myself.
Using these tools combined, I'm able to schedule a week's worth of effective posts in a short amount of time.
Increasing Engagement
If possible, when Grum posts to my account, I make sure to be available to respond to comments people leave on the post. This helps with engagement. The higher your engagement is, the more likely you will be to rank for your chosen hashtags. The first 30 minutes after you post are the most important for ranking.
I always try to make myself available during this 30-minute window to respond to every comment, even when I can tell it's a comment left by a bot or auto-comment program. Instagram regards all comments as engagement, even when it's a comment you're leaving in response.
Once you have an established following, brands will begin contacting you for collaborations, you may be invited on press trips, and you can receive complimentary hotel stays in exchange for promoting the property on your account—all just from spending five hours a week on Instagram.