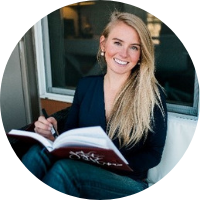 The blogging industry comes with a lot of mystery and mystique. A reader might see "sponsored post" or "#partner" on one of their favorite blogger's pictures or blog posts… but what does that really mean?
Let's dive in and discover all the behind-the-scenes details…
Why do brands pay bloggers to represent them?
According to a recent study, 69% of people DISTRUST traditional advertising. However, the same study also shared that around 59% of people DO trust consumer opinions.
Bloggers and influencers are a strategic way for brands to tap into this word-of-mouth, consumer opinion marketing strategy in an authentic and engaging way.
Many of my readers have been following my life on my blog for almost a decade, and I believe that we have a strong sense of community. I blog about my divorce, my fitness goals, cooking, and clothes.
My readers trust my opinion, and companies like that. But I'm also loyal to my readers, so I don't pair with companies I don't think are a good fit no matter how much money they offer me. My reviews are always honest.
If I accept a partnership, I give an upfront review of my trial with that brand, making it as fully transparent as possible, leaving suggestions such as when a piece of clothing is sized differently or when I only recommend specific workouts to match specific fitness goals.
A sample of one of my sponsored posts is here.
Brands gain interaction with my audience of potential buyers in a reliable way. And I gain partnerships with companies I know and like, which often leads to free clothes, gear, food, travel, and income.
So, what do these sponsored posts actually entail from a blogger's side?
How I fulfill sponsored posts
While sponsored posts vary quite a bit based on brand expectations, the overall structure of how I fulfill my sponsored posts remains the same.
When a brand reaches out asking me to write about them on my blog, I make sure to get at least a few high-level details to determine I'm a good match for their brand:
– What are their campaign objectives?
– Do I feel that I honestly match their target market?
– What is their preferred timeline for this post?
– How are they planning to pay? (Trading product and/or monetary compensation)
– Do they prefer to have prior approval before the post goes live?
I also always make sure that I am familiar with the product and brand, either through prior experience or by asking the brand to send me their product to try before I sign on for their campaign—I recommend this strategy to you, as well.
Be very clear with those brands you choose to work with that you are planning to offer your honest experience in your post, thus elements be not always be positive.
Most brands are very receptive to this. For those that are not, I offer to send the products back if my experience is negative.
However you decide to approach this topic, I would encourage you to do everything you can to maintain credibility with your readers. You wouldn't want a reader trying out a product you recommend, only to find that their experience was completely different than you described.
Once I've tried the product or brand first-hand, I sign a straightforward contract between myself and the brand to make sure that we are aligned on all details.
I then write the blog post, take pictures relevant to the post, and time my post as I would with any of my unsponsored content, being sure to include a byline somewhere within the post that says that the content is sponsored.
Following the post, I immediately send the brand the link to the content so that they can see what the post looks like live on my website.
And, as a little extra pro tip, while most brands do not require it, share out some results a couple days after the post goes live. The brand will love knowing how many individuals read the post, any comments or questions that you receive, as well as any specific click-thru rates you're able to share.
Think you're ready to get started?
If you're just starting out with your blog, rest assured that literally every blog is able to partner with brands, no matter your reader count or the size of your blog. What's more important is finding the right brands to work with that speak to your audience and target market.
Tomorrow, I'll tell you a little more on how to get noticed by brands… and I'll share some of my top tips on how to be picked by the brands that you like most.