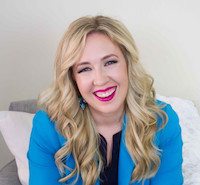 Anyone can start a blog. But how do you start a blog that gets read? How do you grow your blog into one that brands want to work with?
Nine years ago, I started the blog that would ultimately transform my career from corporate attorney to nationally recognized sports business expert. I've received two book deals, dozens of paid speaking gigs, and even a two-year stint at ESPN as a result of my blogging efforts—not to mention a little spending money here and there from sponsored posts and advertising. 
So, what makes a blog successful? Here are the three success "hacks" that will get any beginning blogger started out on the right foot: 
1. Choose a niche.
Narrow your focus to broaden your audience. This was the best advice I ever received as a blogger. In the beginning, you think the broader your coverage is the more people you can reach. 
This couldn't be further from the truth. People don't want general advice or information. They want to be super-served on topics that interest them. 
How do you choose your niche? Your target audience probably looks a lot like you and enjoys the same things. That means all you must do is be true to who you are. For the travel blog I share with my husband, we focus on couple travel that doesn't involve kids—because we're a couple with no kids who travels frequently. 
2. Establish a schedule.
The second most important thing you can do to build a successful blog is to establish a posting schedule. I believe you need to post at least once a month to make blogging worthwhile, and once a week is an ideal minimum if you want to gain any traction. 
If you're writing more than once a week, you might find that theme days are well received by your audience. For example, you might have Travel Hack Tuesday where you share a travel hack every Tuesday. Having a predictable schedule and theme every week gives your audience something to look forward to and they don't have to wonder when your next post will be published. 
Generally speaking, Friday, Saturday, and Sunday are low traffic days for blogs—even for the major publishers—so skip posting on those days. 
3. Get active on social media.
I can't think of a successful blog owner who isn't active on at least one social platform. Social media will likely be your largest source of traffic, so it's important to be on the right platforms and to post regularly (at least a few times a week). Facebook and Instagram tend to be the go-to platforms for beginners, so I would suggest starting there. 
Many people start blogs, but not very many will consistently maintain their blogs over time. A niche combined with consistency—on both your blog and social media—will give your blog the best chance at success.