As a digital marketer, travel writer, and photographer, I'm a regular user of Instagram. For good or ill, Instagram and other social media platforms are riddled throughout today's society. But if you know how to use them, they can really work to your advantage.
Here are some of the benefits that I have personally experienced from using Instagram as a platform for both personal and professional use.
1. Fosters community.
While there's definitely nothing wrong with creating and sharing on Instagram for your own personal enjoyment, I've found that there's something special about being able to build a niche community online that supports and inspires you.
I've met so many people from different cities and countries around the world through Instagram, I've got epic destination recommendations and given other people travel advice from my own experiences. In the simplest form, it's just really lovely to build a friendly place where people from all over the world can come and get inspired, chat, and make friends.
2. Allows you to get creative.
Instagram is a great place for sharing your work, getting creative, and turning your travels and everyday encounters into fun, beautiful-looking content.
With IGTV, stories, Instagram live, reels and so many great features to play with, there are endless opportunities to get creative and try new things on Instagram. By having a go at utilizing all of these features, you'll continue to learn and improve, sparking those brilliant creative ideas that people love to see.
3. Opens doors to new opportunities.
Having a legitimate and active follower base can open many doors for those operating in the digital space. Whether it's landing that press trip, scoring a new article publication, or getting commissioned to produce some new work for a client, Instagram can lead to so many great work opportunities.
One thing I personally enjoy is when companies or tourism bodies see my work and reach out in the hopes of resharing it with their own audience. This is not only a great way to gain new followers but it's so rewarding to see your work published on accounts you know and love.
Here's an example of a destination asking Montana to share her content.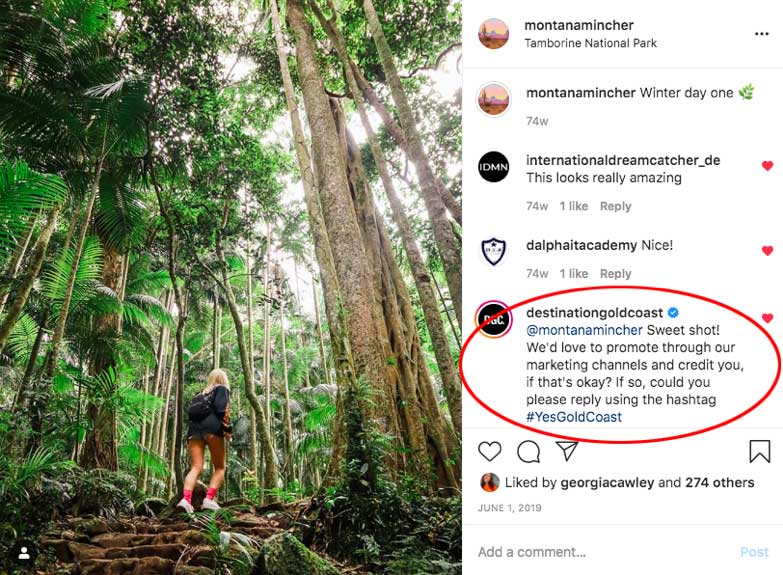 4. Inspires and educates.
Instagram is truly one of the biggest hubs of creativity and beautiful content, making it the perfect playground to run around and get inspired by others. With one scroll through your Instagram feed, you can get inspiration for a new blog post, or the styling of a shoot, or even just inspiration for an upcoming trip to plan.
If you approach Instagram with a strong sense of individuality, creativity, and professionalism, then you will find it's a tool that does all this for you and more.