The muffled hoof falls of my frisky mare accompanied the soundtrack of shrill cicadas and exotic birdsong echoing in the hot, humid air. As we trotted along, bright sunlight dappled the shadows cast by the dense woodland and tangled undergrowth flanking the dirt road.
We arrived at the archaeological site of the ancient pre-Columbian city of Takalik Abaj on the Pacific coastal plain of Guatemala. On foot, we followed our guide past worn rock-hewn terraces and Olmec-style sculptured monuments embraced by lush tropical forest.
Two days prior we had toured around the historical center of Quetzaltenango, a city in a highland valley with a backdrop of majestic volcanoes. Leaving the city behind, we drove along rural roads through undulating hills blanketed by patchwork fields. We then relaxed in steaming thermal swimming baths of jade-green water fed by volcanic hot springs in a deep woodland hollow.
In the lowlands, we lodged in rustic cabins on an ecological reserve amidst banana and papaya trees, stands of bamboo, vibrant flowering shrubs, and thorny-trunked ceiba (kapok) trees. Our savvy companion gave us an informative tour through rubber, coffee, cacao, and macadamia plantations during the late afternoon golden hour. Then, during our post-dawn bird watching amble, he led us along dewy forest paths to a mirador overlooking treetops to the peak of a mist-shrouded volcano.
These were just some of the fun experiences of a multi-day trip—and I didn't pay a cent. This was an all-expenses-paid photo assignment accompanying the founder of a non-profit organization and a group of financial donors. All this was in exchange for a slideshow of my photos documenting the trip; it was one of my favorite travel perks to date!
Afterwards, I uploaded my best photos to online stock agencies and some of these are now my top-selling images. One of my all-time top five performers at my best-selling agency is of a plantation worker turning drying cacao beans from the trip! Another top seller is a closeup of someone holding a cacao pod cut open showing the beans inside.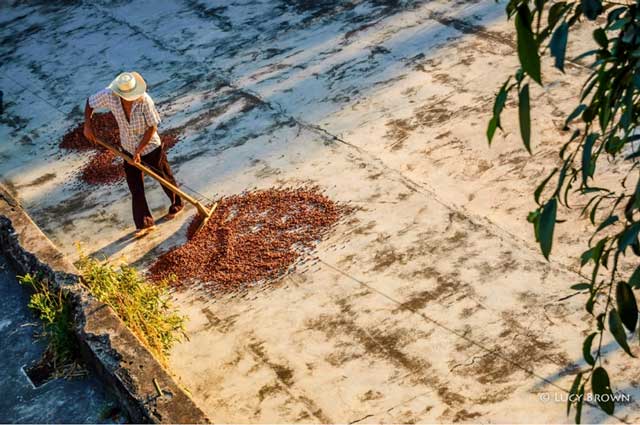 I focus on travel and fine art photography. I submit my images to multiple stock agencies, send my articles with photos for publication, or upload to my own website and Saatchi Art. As travel photography covers any genre including landscapes, cityscapes, seascapes, festivals, traditions, parades, street, portraits, documentary, and food, I have a never-ending supply of subjects.
Also in Guatemala, I photographed a fiery, lava-spewing volcano as well as stunning, tranquil volcanic landscapes; the largest Holy Week celebrations in the world; indigenous Maya folk wearing the intricate hand-woven garb of their ancestors performing traditional ceremonies, playing Maya ballgames, and galloping inebriated in an All Saints' Day horse race; and spectacular giant kite festivals in a gaudy cemetery, on a football field against a backdrop of volcanoes, and on a hilltop overlooking the volcano-rimmed cobalt waters of Lake Atitlan.
In Mongolia, I captured scenes from the annual Naadam festival's colorful opening ceremony in the capital Ulaanbaatar and horse races out on the grassy steppe. Later, I photographed my brother tying the knot with his Mongolian bride in Ulaanbaatar's sumptuous Wedding Palace.
I bumped along rutted dirt trails across the vast rolling steppe in the back of an old Russian van, capturing images of the landscape and nomadic culture along the way. Men on horseback or motorcycle, clad in traditional long tunics, herded horses, sheep, goats, and yak. I slept in cozy yurts, galloped across the steppe on a champion Naadam horse, drank airag (fermented mare's milk) and Mongolian Chinggis vodka (named after Genghis Khan), tried my hand at archery, saw reindeer and golden eagles, rode a camel across desert sand dunes, visited old Buddhist monasteries, and listened to the unique music of throat singers and horsehead fiddlers.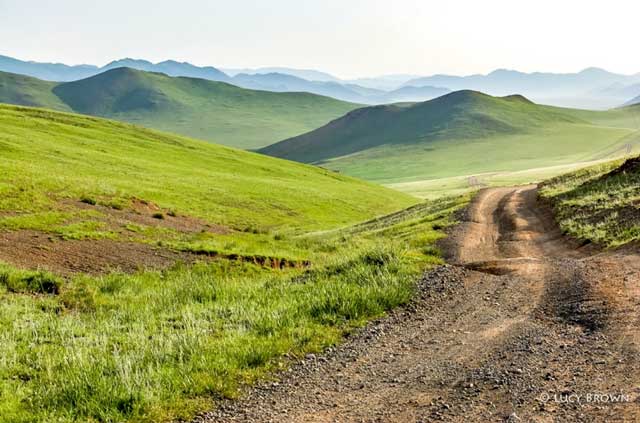 These are just a few of my globetrotting adventures and my photos from these trips help fund my travels. I've more than covered the cost of my trip to Mongolia with stock earnings, and to date I've earned around $6,000 total from my Guatemala image sales.
Currently, I'm based on a small, picture-perfect tropical island in photogenic Phang-Nga Bay in southern Thailand with daily opportunities to capture beautiful images. Here, I've also landed myself a sweet deal with a popular restaurant. In exchange for my photos of their wholesome dishes and beverages for their menu and social media, I dine on the house.
So, not only do I get to feed for free here, I also get to add to my stock and fine art photography portfolios and increase my chance of sales. I love earning from my photography passion and the freedom it gives me to travel the world and live my location-independent lifestyle.