A Shoulder Season's Chart: Where to Travel and When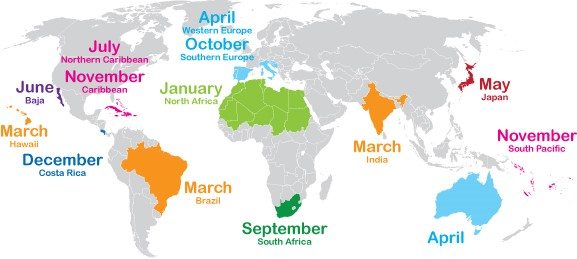 January – Northern Africa. The Christmas travel crowds are gone and the weather is warm.
March – Brazil (post-Carnival), Hawaii, or India, between local holidays.
April – Western Europe. Rome, Barcelona, Paris, and London will still be cool and you'll have your chance of rain, for sure, but the crowds are thin and prices go way down. Holland is full of flowers. Also, Australia. April is early autumn in Australia and temperatures are dropping. You'll also get there before the crowds rise.
May – Japan. Hit Japan after the Cherry Blossom festivals are over for a break in prices.
June – Baja. Prices and temperatures are mild, between the Spring Break rush and the summer heat.
July – Northern Caribbean. (But avoid hurricane areas.)
September – South Africa. It's fall in the U.S. but early spring in South Africa. Prices are low on game drives and animals are easier to spot since many trees still don't have their leaves.
October – Southern Europe. The weather has turned chilly up north, but around the Mediterranean, you'll usually still find warm temperatures… with thinner crowds and good travel deals.
November – Caribbean and South Pacific. Christmas is high season in these warm destinations. Try to get your beach time in before the rush.
December – Costa Rica. The Rainy Season is subsiding, but the tourists haven't flocked in, yet.