Here's my challenge: Pack the following into one, small carry-on bag.
Packing list:
Camera
Camera bag
Camera charger
Spare camera batteries
Memory cards
Laptop
Laptop charger
Electric converter
Toiletries
Two pairs of shoes (one to wear on the plane and the other to pack)
Five dress shirts
Three pants
Two t-shirts
Five undershirts
Five pairs of underwear
Five pairs of socks
Two guidebooks
Packing Tips
Whenever I pack, I pack my camera bag first because I'm always amazed at how much stuff I can get in there.
Inside, I can pack my camera…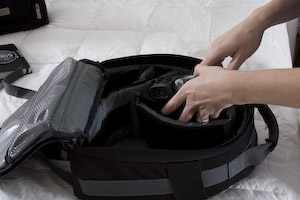 … an extra lens…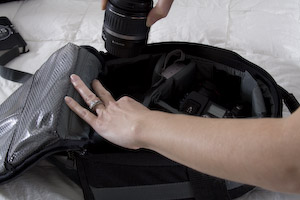 … my point and shoot compact camera…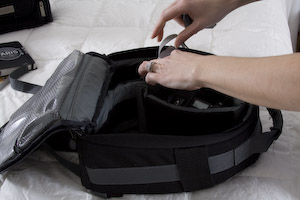 … filters…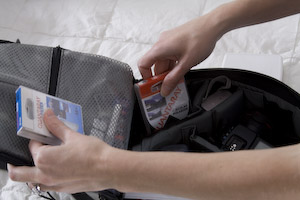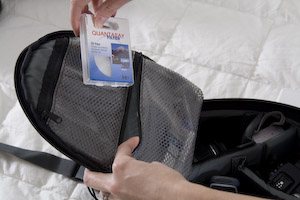 … and definitely little things like memory cards.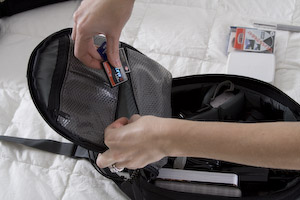 I'll even pack a snack for the flight, and, if I've got room, I'll add my guidebooks and a first aid kit…
(You'll find details about our upcoming photography expedition in Paris when you click on the guidebooks.)
So, Space-Saving Tip #1: Find a Good Camera Bag
My camera bag is also a backpack.  While it's larger than many other camera bags on the market today, it's got great compartment space, with movable dividers that I can adjust according to my packing needs.
For more camera bag recommendations, read: A Gift Guide for Photographers
Space-Saving Tip #2: If you have cords, especially laptop cords, tie them together before packing.  This will make packing and unpacking easier and it'll save space.
You can buy strips of Velcro just about anywhere: hardware stores, Target, Wal-Mart, etc.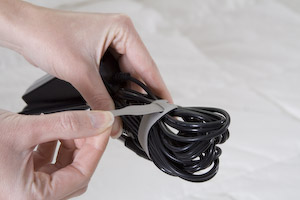 Space-Saving Tip #2: Look for unused space.
Shoes are space hogs, so don't leave them empty.  Stuff them with your socks, underwear, and jewelry.
If you're packing necklaces, you can use drinking straws to keep them from knotting…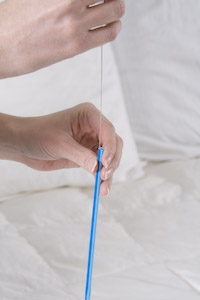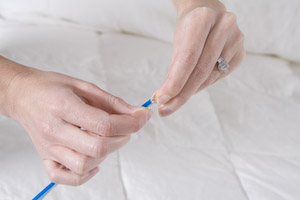 Space-Saving Tip #3: Use Space Bags or Ziploc Bags to Compress
Space Bags are handy little plastic bags used for packing. You can stuff all your clothes in and squeeze the air out to compress your load.
I used to use Space Bags exclusively, but now I use Ziplocs.  Ziploc bags come in all sizes.  The ones in the pictures below are XL (2 ft x 1.7 ft).
Caution: If you use Ziploc bags instead of bags designed for compressing clothes, pack extra.  I only get two to three uses out of Ziplocs before the seals start to wear and I have to throw them away or use them for something other than compression.
If you have a Space Bag, compressing is easy.  Simply roll your clothes, put them in the bag, seal it and roll the bag until all the air pushes out the other side…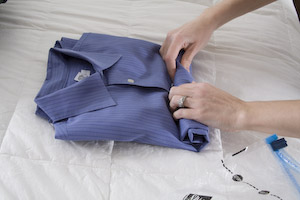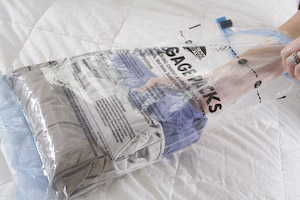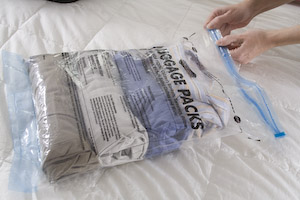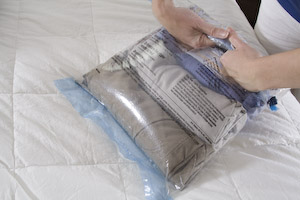 I couldn't fit five outfits into one small space bag so I had to use a larger Ziploc instead.  You can roll the clothes or fold them.  It's a personal preference.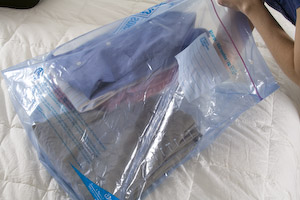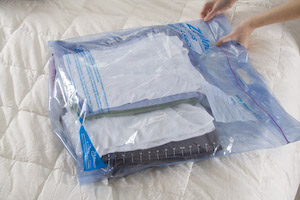 With Ziplocs, you have to squeeze the air out of the same side the bag seals.
So, if you're using a Ziploc, be sure you don't seal the bag all the way.  Stop about a quarter-inch from the end and leave enough space for the air to escape.  Then, lay on it or roll it to get all the air out and seal the remaining quarter-inch as soon as it's flat and airless.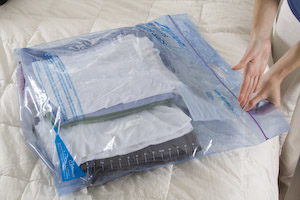 Freshness Tip: To keep your clothes static free and smelling fresh, add a dryer sheet to the bag before you compress.
Once, your clothes are compressed, I suggest putting them at the bottom of your carry-on.  You'll need to get to your laptop and/or your toiletries (gels and liquids) out when you go through security.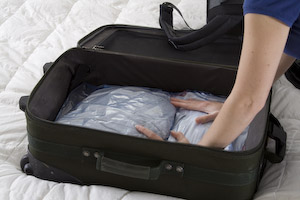 Camera bag on top…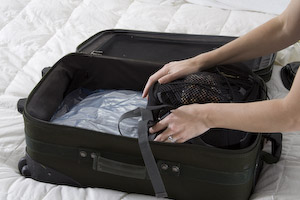 Shoes on top of that…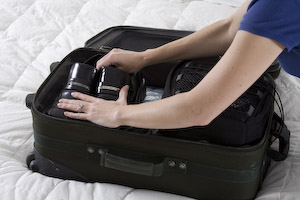 I eliminated the toiletry bag and put my liquids in a small quart-sized Ziploc…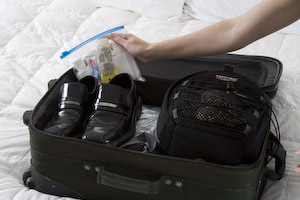 And, I could either put my laptop on top or in the mesh pouch (just remember that you'll have to take it out when you're going through security)…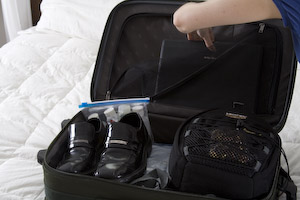 That's it.  Five outfits, camera equipment, a laptop, and shoes in one carry-on bag.
I even have enough room for a small souvenir…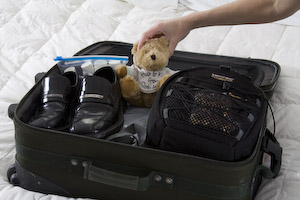 Happy Packing!
[Editor's Note: Learn more about how you can turn your pictures into cash in our free online newsletter The Right Way to Travel.  Sign up here today and we'll send you a new report, Selling Photos for Cash: A Quick-Start Guide, completely FREE.]