Oh what a year! Happy New Year to you and your family!
Wherever you find yourself today… I hope that you're staying warm, having fun, and surrounded by friends or family.
From all of us at Great Escape Publishing to you… thank you for reading, writing in, sharing your comments on our Facebook page, traveling, photographing, and exploring the world with us.
I'm not officially "working" today but I'm sitting here planning some of my upcoming Saturdays.
Below, I'm sharing my own personal travel list for 2016. Some of the destinations are places I'd like to go with my family, and others are places we're going for workshops. I'm sharing with you here because I'd love your input.
As you know, one of the things that makes our trips unique, and unlike a standard travel tour, comes from our roots as travel writers.
We like to explore off the beaten path. Find experiences others don't know exist. And we like to get our hands dirty, not just seeing where Indian food is made but actually making it… not just climbing the Great Wall of China but taking a hidden bobsled down it (no kidding, there's a section of the wall where you can hop on a bobsled and take it to the bottom, lots of fun!).
And it's high time I asked for your help since our community is about to reach record-high numbers and I know you want the same thing as me – tours with insider connections.
So here's what's on my list for unique travel experiences in 2016 and if you have any connections or fun ideas to share, I'd love to hear from you on Facebook, on our website, or fill out this survey here.
1.  Cappadocia, Turkey – They say the landscape of the Göreme valley is half man-made and half nature. Several volcanic eruptions covered the area in ash which later solidified into soft rock. Wind and water carved it into peaks and valleys. And then man came along and carved whole cities into it – caves, underground houses, food markets, even horse stables. There's an entire city in the stone. And at sunrise, the best viewing is done by hot air balloon — only there's so many hot air balloons floating above the valley, I think I'd rather be on the mountain side photographing them.

2.  Hotel Kakslauttanen, Finland – Our au pair this year is from Finland and she told me about these remarkable glass igloos you can rent in Lapland where you can lay in a warm bed and sleep under the glass-top roof with a perfect view of the Northern Lights. This "hotel" is also next to Santa's house, so of course, the kids will love it. And secretly I think I'll love it more because I love everything about Christmas and this is yet another way of seeing it.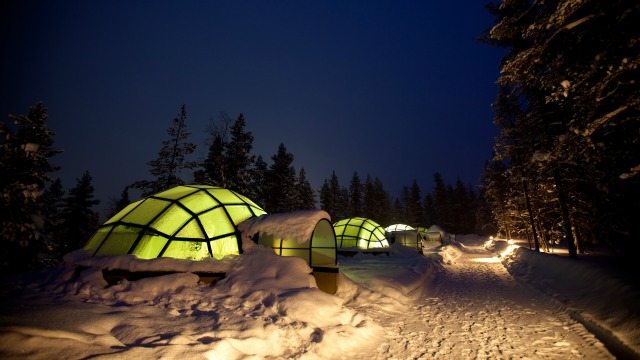 3.  Macchu Picchu, Peru – Of all the trips she's led, Bonnie says this one is her favorite. The entire country is peppered with archeological sites and stories of civilizations past. Friendly and warm people… colorful native crafts… amazing food (Cusco is a foodie paradise, turns out)… Peru has it all.
I love stories of fallen empires and new beginnings. It reminds me that change is constant and that even the mighty fall. We're going back here in May and I'll be at the front of the line. When Bonnie says it's one of her favorite trips, I listen 🙂 . You can sign up for first alerts when the details are ready, here.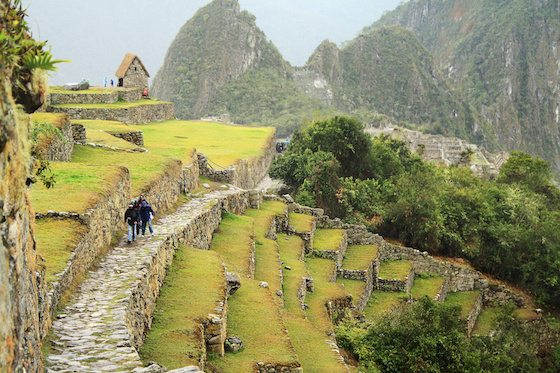 4.  And finally, I'm looking at the Day of the Dead ceremonies in Guatemala this year. When most people think of Day of the Dead they picture zombies (wrong) or beautiful faces painted in bright, flowered skeletons (ding ding ding!). But what's unique about the ceremonies in Guatemala are all the kites. Families make enormous kites the size of small houses to honor their deceased family members. The wind tears them apart and before they fall they're burned so that the smoke can guide their ancestors back up to heaven.
I'm working on this trip with one of our members in November. I'll send you more details when I have them. In the meantime, picture yourself here…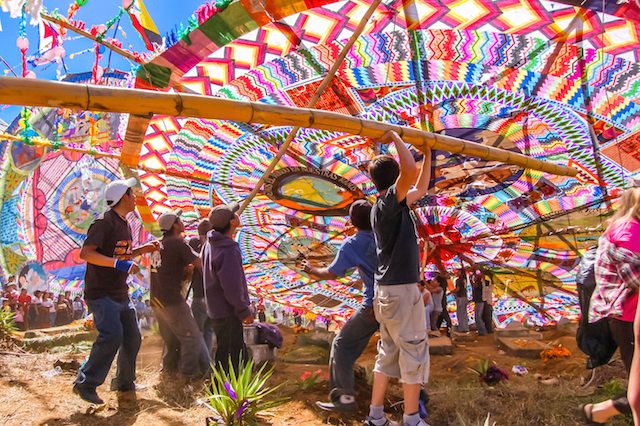 I'd love your help on all these tours. If you have any connections in these places (or others), any photos in your collection I can buy, any recommendations on what we can do to make these trips unique, I'd love to hear from you below.
This year's Africa trip was made so affordable through a connection we made with one of our readers. Vietnam in February is also coming together through a member connection.
Your voice isn't silent here. I'd love to hear from you even if it's just to say that you support what we're doing.
I'm on Facebook here. You can comment on this article below. Or answer this survey, here.
I'm glad to be on this journey with you. Here's to making 2016 your best year yet!
Travel Writing Resources
How To Become A Travel Writer – The Easy Way
Easy Steps To Landing Your First Byline As A Travel Writer
Marketing For Travel Writers: 5 Ways To Get Started
22 Travel Story Ideas To Get You Published
10 Reasons To Become A Travel Writer