I arrived in Oswego, New York, around noon yesterday. A friendly representative of the tourism bureau flashed her mega-watt smile as she greeted me. We spent the next six hours visiting four historic museums, finishing Day One with dinner and a chilled glass of wine, chatting like old friends, watching a brilliant sunset over Lake Ontario…
Right now, I'm at "the office," out on the balcony of my 4-star hotel room, compliments of the town's Chamber of Commerce. Moonbeams shimmer over calm water early in the morning. I hold a steaming cup of coffee, willing it to work its magic.
I'll need another cup — I have five museums to tour today! 
When I decided to become a travel writer in 2013, I had a lot of hesitations.    
Would I need money to travel, a state-of-the-art camera, plus a ton of free time? I hoped not, because I had none of the above. I was over 50, working long hours, living paycheck to paycheck.   
How the heck could I make anything happen, when the state of my finances from a painful divorce were in shambles? It sure seemed impossible!
For me, this harsh reality made it simple. If I wanted it to happen, I'd have to bite the bullet and start locally, in my hometown. It was the most cost-effective. It made the most sense. 
To my delight, when I gave it a try, "Discover Saratoga" was thrilled to hear from me. They'd wanted more stories from people who actually lived in Saratoga and were open to anything I wanted to pitch.
So, I wrote about museums, family vacation spots, and restaurants. I shared my own impressions of the  city. I submitted a few images to accompany each article.
Within the first month of pitching, I had five by-lines. It was so exciting to see my name beneath each headline. Taking another step, I began to search for local print magazines.
With a few solid travel articles under my belt, I began to ask for media passes whenever I found something nearby that interested me. I was amazed at how willing venues were to have me come as a guest. I'd experience all they had to offer and write about them once I returned home.
Starting locally was the perfect way to launch my career as a travel writer and photographer. Since 2013, after attending the Ultimate Money-Making Photography Workshop and the Ultimate Travel Writer's Workshop, I've published 98 articles, in on-line and print magazines, even landing a UK cover/feature about a historic garden right here in Saratoga Springs! 
I've checked off travel to Ireland, Fiji, and Paris. All on assignments, with letters of commitment each time… and I even took friends with me! I've enjoyed free stays in vacation rentals, five-course meals in restaurants, and free entrance to museums and zoos all over the country.
Here I am, holding a Blue Linckia starfish in Fiji!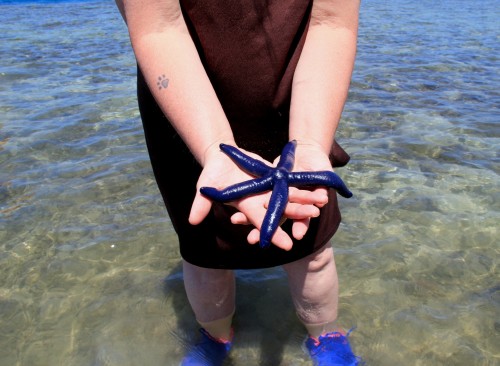 PR folks have bent over backwards for me, customizing itineraries that revolve around my personal interests. 
The thing is this; One door opened three years ago and I walked through it. Haltingly, perhaps, but I walked through it. That led to other doors, new opportunities, and true-blue friends—a network that seems to expand every day. 
You have an open door, as well.
Why not dare to walk through it?
Travel Writing Resources
How To Become A Travel Writer – The Easy Way
Easy Steps To Landing Your First Byline As A Travel Writer
Marketing For Travel Writers: 5 Ways To Get Started
22 Travel Story Ideas To Get You Published
10 Reasons To Become A Travel Writer