Breakfast could not have been more appealing: a freshly-baked croissant, a sesame bun still exhaling sweetly scented steam, passion fruit so ripe it presented as a tangy-tart custard, and rice crêpe pancakes served with a garlicky fish sauce for dipping.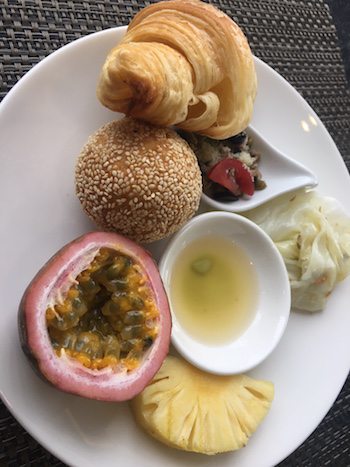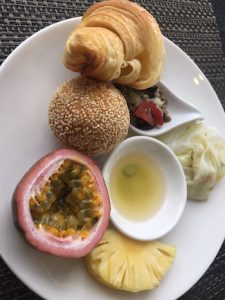 It was 8 a.m. in Hanoi, Vietnam, and my stay thus far at La Siesta Central, the newest outpost for the country's popular La Siesta Hotel & Spa chain, had been exemplary. 
Situated squarely in the heart of Hanoi's bustling Old Quarter, the elegant lodging—which was appealing from the first, with its lobby of black-and-white marble, crystal chandelier, cozy nooks, and a baby grand piano as the centerpiece—had not missed a step.
Fresh fruit and roasted nuts greeted me in my luxurious room, a spacious respite with a king-size bed covered in sumptuous linens, granite-topped dressers, a rainforest shower, and a set of French-style wrought-iron balcony doors opening to the bustling city below. 
I'd been granted this memorable stay after pitching a story on visiting the country as the daughter of a war veteran and in light of Ken Burns' recent documentary, The Vietnam War. Because the hotel is new, it was eager to get some attention. The connection was a win-win. 
My stay was hosted for two nights, a $240 savings that allowed me to enjoy day trips. The hotel is located right in the middle of the charming Old Quarter, just a couple of blocks from the famous Hoan Kiem Lake and its temple and museum, as well as the water puppet theater and more shopping than anyone could hope for. 
Not to mention I was granted access to the breakfast buffet, one of those over-the-top affairs that you miss for weeks after returning home. In the evenings, the rooftop bar was an ideal way to view the lights of the city.
In addition, I was able to secure a discount on spa treatments, inexpensive by any standard but a true treat in the hotel's lavishly-decorated rooms. There were fresh flowers everywhere, and each guest was offered a tray of snacks and jasmine tea. 
La Siesta also arranged for me to get a nice break on tickets to the water puppet theater, along with a discount on the nightly rate for my return stay after three relaxing days on Ha Long Bay (another trek coordinated for me by the hotel), with a shuttle taking me to the boat and a heads-up to the crew that I was a "VIP." This resulted in extra drinks and snacks, a special tour of a remote cave filled with sleeping bats, and a behind-the-scenes look at the Hoa Lu and Trang An grottoes.
This is the best perk of travel writing—getting to experience something we might not normally be able to, and certainly not anything that can be replicated by simply reading a hotel's website or a guidebook on the country. 
Being there, notebook-deep in the sights and sounds and smell of a foreign city, is the only way to go.