The snow has started to fall onto the already blanketed landscape.  I'm standing at the top of the hill with my inner tube getting ready to go to work.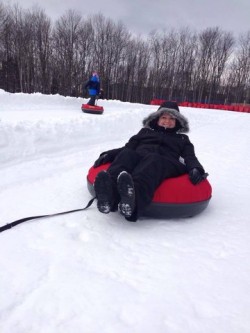 I drop myself down into the inner tube, scoot over to the edge of the hill and push off.  Down I go squealing all the way as my inner tube picks up speed and hurls me to the bottom of the hill.  It's just another day at the office.
On other snowy days at work, I've driven a reindeer sleigh, hung out with a snowman in his ice palace, drank cocktails in ice glasses at an ice hotel, and made snow taffy.
Of course, it isn't always snowing at my office.  Sometimes it is sunny and I go sailing.  I've watched the legendary Key West sunset from a sailboat on the water, sailed on a wooden schooner in the Chesapeake Bay, and cruised through the waters surrounding Long Beach watching the seals playing on the buoys.
Sometimes my office is filled with wildlife.  Like the time I tagged crocodiles in Belize or the day I hand fed howler monkeys.  Once I even fed Little Debbie snack cakes to black bears.
Terri Marshall here again to talk to you about increasing your profits as a travel writer by getting as many expenses as possible paid for by someone else. I'm sure none of this sounds like work.  But in each of these scenarios I was doing my job – as a travel writer.
Now, I haven't always been a travel writer.  In fact, I spent over 25 years preparing tax returns.  Trust me when I say my "work" today is infinitely better!
Each of the experiences I've shared with you here happened on FAM trips (familiarization tours) hosted by destinations or on individual press trips also hosted by destinations.
While snowy adventures, sailing and wildlife encounters may not appeal to everyone, I love them.
Of course I also enjoy press trips that include spa treatments, five-star restaurants, wine tasting, and cultural tours.  Thanks to the tips I picked up from Jennifer Stevens, Steenie Harvey, and Kyle Wagner at the Ultimate Travel Writer's Workshop I attended several years ago, and from Kyle Wagner's newsletters for ITWPA, I have media outlets interested in articles about all of these experiences.
As much as I love receiving invitations to press trips, I don't accept all of them.  Here are some tips on choosing the appropriate trips for you and your publications:
Be sure you can participate in all activities on the trip itinerary.  For example, if you are severely allergic to seafood, a coastal culinary tour might not be a good fit.
Have at least one publication that will publish an article about the trip.   Let's say you only write articles about traveling with children.  A FAM tour focused on craft beers might not be the right fit.
Check the editorial calendar of your targeted publication to see if there is room for an article on the destination you are considering.  Or pitch your story idea to the editor before accepting the trip.
Always check recent issues of the publications where you plan to send the article.  If the destination has been covered in the last two years, it isn't likely the editor will publish another article with the same theme unless you can find a unique angle.
Choose your trips wisely, travel boldly, and write confidently.  Travel writing really is the most fun job in the world!
Share on Facebook
Travel Writing Resources
How To Become A Travel Writer – The Easy Way
Easy Steps To Landing Your First Byline As A Travel Writer
Marketing For Travel Writers: 5 Ways To Get Started
22 Travel Story Ideas To Get You Published
10 Reasons To Become A Travel Writer