As a travel writer, I'm often asked how I broke into the field and what I write about. To many, my answers are surprising. That's because there are so many myths and misunderstandings out there about freelance travel writing.
After attending the Ultimate Travel Writers Workshop in 2014, my eyes opened to the myriad possibilities in a world I knew very little about. But it didn't take long for me to hit the deck running after the workshop, and by the end of the first year, I had 47 published stories. All while still working full-time.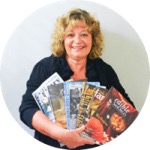 Fast-forward to 2020, and my bylines have climbed to over 500 in a variety of print and digital publications.
Thankfully, I didn't pay attention to the myths or the naysayers. I just kept writing and following everything I learned from the workshop. I kept my eye on the ball vs. the crowd noise as my career progressed and the myths tumbled one by one.
1. You must have a journalism degree.
When I started submitting queries and completed articles for submission, not one of my editors asked if I had a journalism degree. Why? Because it didn't matter. What did matter is that I could deliver a good pitch and pen a top-notch story.
My background is actually in nursing and legal nurse consulting—35 years in the field to be exact. The only writing I'd ever done was in professional journals or creating medical summaries. Nothing could be further from travel writing.
I know freelance writers with backgrounds in medicine, accounting, teaching, coaching, retail, and more. And believe me, they're all getting published.
2. Magazines have their own staff of writers.
At one time I totally believed this. It's because I'd never been exposed to the world of travel writing, so what did I know?
Truth be told, some magazines do have their own in-house writers, but more publications these days accept freelance submissions than don't.
I just spoke to the executive editor from Edible San Diego Magazine the other day who said that almost all their writers are now freelancers, and with the COVID-19 crisis, many publications are moving further in that direction.
3. You must travel to exotic destinations to write a story.
Like many of my colleagues, I started my writing career penning stories about my hometown. For one, I was working full-time with only so much vacation time, and secondly, I realized that my hometown of San Diego is someone else's ideal travel destination full of great story ideas.
Though traveling to exotic islands is always my favorite, I continue to explore my local beach towns to write the type of stories I love best. And with today's pandemic, that's working out extremely well for many writers in the field.
4. You have to choose a specific writing niche.
While this may be true for bloggers hoping to capture a specific genre to gain followers, freelance writing is different.
Some writers do find a niche they love, like food, wine, island destinations, or spa writing. But you don't have to. Destinations are like people—multi-faceted. Visiting a place like Hawaii's Big Island for example yielded me several stories covering food, culture, coffee, history, nature, and my beloved waterfalls.
Honestly, the more open you are to writing for multiple genres, the better. The bylines will multiply.
5. Travel writers don't make any money.
Well, this is true for those who choose to write for free. And I've met some of these on my many press trips.
They're not making money because they're not pitching to the publications that pay writers.
How much money can be made? Well, that's up to each individual writer. Airline and specialty publications can pay upwards of $500 to $1,000 a story. It all comes down to knowing the voice of the publication, coming up with a great story idea, and then pitching away.
And let's not forget the value of all the free perks travel writers enjoy.