Travel writing for me began with covering stories about my hometown. Why?
Because in 2014, when I launched my travel writing career, I was still working full-time as a nurse. With limited time and limited vacation days, my opportunities for travel were somewhat restricted. Therefore, it was more convenient to cover stories about San Diego and its environs. I could even write about local weekend getaways.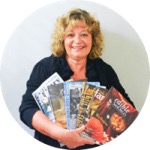 Fast-forward to 2020 and we are all in the throes of a global pandemic. Many countries and even states within the U.S. are on lockdown. Borders are closed to non-citizens, planes have been grounded.
I personally had three press trips canceled within a month. Obviously, that means for now those stories about Mexico's Riviera Maya and Los Cabos and a central California beach town aren't going to be written.
But that's not stopping me from writing. I'm being flexible, and while following all the guidance for safety, I am doing more of what I did in the beginning of my career, I'm writing about my local community. I've pitched more stories to Edible San Diego Magazine, which I'm a regular contributor for, and I've started writing for a new local publication, the San Diego Explorer.
Here's why writing local never goes out of style.
1. Writers know their hometown
No one knows their hometown better than those of us who live there. We know the best restaurants, the best museums, the ideal hiking trails, and the top wineries or breweries.
With travel restrictions and social distancing rules in place, now is the perfect time to research the best of your hometown. Remember that the place you live is someone else's travel destination. Refresh your knowledge. There are certainly new discoveries to be made.
2. Local publications
Many local publications accept freelance submissions. I just made a list of those within my own county and came up with 10 right off the top. These print and online magazines cover topics like sustainable living, breweries, local travel and weekend getaways, "best of" stories, and neighborhoods.
Even those who can't get out to look for print copies of these local publications can use one of the best resources out there to read them—the internet.
3. Your hometown is filled with stories
Just recently, I covered a story for a retirement publication about a San Diego couple whose dream was to someday open their own winery, which they did.
Taking time to research other possible story angles, I found that the original "Betty Crocker" actually lived here in my hometown and that her homestead is set to be turned into a museum. And who would guess that award-winning singer-songwriter Jason Mraz is growing coffee on his family farm? Or that one of San Diego's luxury hotels has a beekeeping program on its rooftop?
4. Locals get the inside story
Because we live local, we have the ability to really get to know our story subject inside and out. It's easier to visit, interview, and get the good stuff to bring the story to light. We call it "finding the story within the story." And that's exactly how travel writers sell articles. We tell editors something they didn't know about, and they love it!
5. Getting photos is a breeze
Living in San Diego, for example, I know the best beaches, best places to watch the sunset, and best winery views. So it's a simple matter to capture these with my camera.
I can also choose the best day for my photos, which was to my benefit just a few weeks ago, as the day I had planned to visit some local wineries, we had rain and heavy fog. Thankfully, because these are local businesses, I was able to head out on a sunny day and get the photos I needed.
Even during these difficult times, I'm thankful, as are many of my writer colleagues that we are blessed to return to a place where we started—our own backyards.