After returning from a two-month travel spree around Europe, I knew that my life path was on the cusp of changing forever.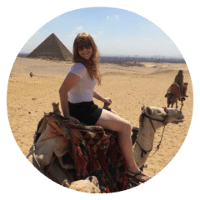 I had to keep traveling the world. 
The dilemma that we aspiring writers all seem to face is that we have the passion, but no way of funding it. I spent all of my money in Europe, but I have no regrets – because that is what led me to Google search "how to make money while traveling." 
The first link that I came upon was Great Escape Publishing.  I took a leap of faith and decided that travel writing was going to be the raft that would keep me afloat in a sea of self-doubt. I registered for the 2016 Ultimate Travel Writer's Workshop in New Orleans, La.
This workshop was the best thing that happened to me. It gave me the confidence I needed to believe that I have what it takes to become what I already know I am inside: a writer.  
"Lack of experience does not mean that you cannot write the story," the instructor said in the first session, which broke down my preconceived notions that in order for me to be a successful travel writer, I had to have a degree in English or journalism and have a hundred or more bylines. 
I'd been disqualifying myself before I even started, but I soon learned that doors are open to those that are brave enough to knock.
Throughout the weekend, I learned many great travel-writing tips that I implemented immediately upon returning home. 
The following are those that really helped me get started as a travel writer:
1. Find your niche
Before the workshop, my lack of a niche-market focus crippled me from moving forward. I had no idea what to write about. And even worse, I had no idea for whom I should write. I had so many interests, and I thought I could market to them all. 
I was instructed, however, that to find my niche, I needed to narrow my interests to the one or two things that I really know well and love. No one story will appeal to everyone, so it's best to ask yourself, "Who would like this?" Then you can tailor your story for that specific group of people. I discovered that my niche market is the millennial traveler on a budget.
2. Stories are everywhere!
I learned that there is a story in everything. I've traveled to 32 countries, but I never believed I had anything to write about because nothing monumental happened to me. 
After the workshop, I was empowered to find the story in even the seemingly simplest travel experiences, because what may seem like common sense to me will be completely new to someone else. Since then, I have traveled locally and internationally and have had a blast writing down my experiences – from local sightseeing to almost getting abducted in Serbia! 
3. Simple, clear language is best
I like to consider my writing style (and speaking style) to be elaborate. I love flowery words and extra "fluff" to make my stories eloquent and romantic. I tried to approach travel writing with the same style, and I realized very quickly that if I wanted bylines, this wouldn't work. 
Instead, you should use strong verbs and descriptions, and write to express (not to impress). Use fewer words, and avoid cliché travel speak, such as "beautiful," "unique," etc. 
This was a challenge at first, because I felt like I wasn't making the articles as engaging without wowing the editor with my flowery language. But clear and simple works best. Now I don't add words just to fill the page, but I do add strong vocabulary that communicates more than a fluffy sentence ever could. 
I now know I can combine my love of writing and travel as a travel writer. And not only was I encouraged by the workshop, I was inspired to take action—I've moved to South Korea to continue my journey of travel writing. 
If you're thinking about attending a workshop, take the risk and sign up! On the other side is the opportunity to enhance your life by doing what you love, which to me is worth every investment in the world.