Folks often ask me about the stock agency Alamy. Alamy is different from most of the agencies we talk about here in the Breakfast Stock Club.
Alamy – What is It?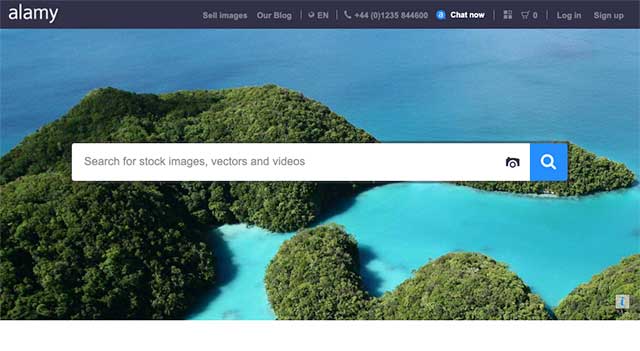 As an online stock agency, Alamy can be harder to get into, but once you're in, they take almost any images that are technically sound and fit their guidelines for size and quality.
In fact, their website literally says, "You can send us anything."
Images tend to sell less often than at other agencies… but for more money when they do.
Readers who've tried selling photos through Alamy report mixed success, but travel photographer Efraín Padro, who sells mostly travel editorial images, makes a nice side-income there.
I asked him if he had any tricks up his sleeve for making more sales. Read his tips for success below.
Selling Stock Photos on Alamy
By Travel Photographer, Efraín Padro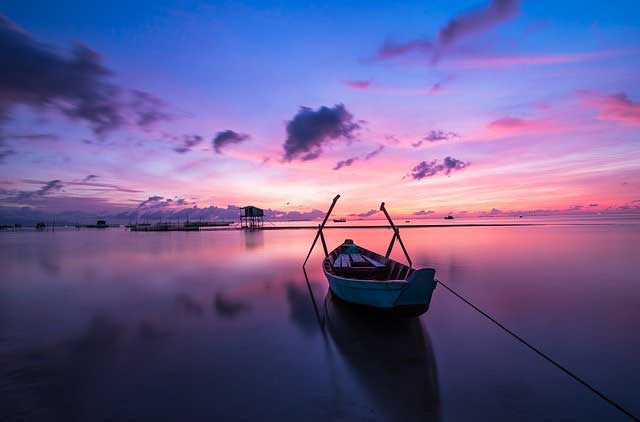 My work is represented by the British stock agency Alamy. I have been with Alamy since 2012 and am very pleased by their representation and results. After researching a number of other stock agencies, I decided to join Alamy for the following reasons:
* Although initial acceptance into Alamy can be a little difficult, once accepted almost 100% of the images I've submitted have been approved. They usually only reject images with technical problems. Alamy's contract is non-exclusive, meaning I can join other stock agencies or license my images directly to photo buyers in addition to Alamy. Because I work directly with a number of travel publications and art houses, having an exclusive contract with any agency would have been a deal breaker for me.
* Alamy gives photographers a 50% commission, much better than most agencies nowadays.
* Alamy, like many other agencies, accepts non-released images (meaning photos with people in them that don't have a model release). Since most of my work is for the editorial market (mostly travel publications) I do not need releases for my pictures. When I submit my pictures to Alamy, I simply click a box that states the image is non-released, and it is automatically identified as such to potential photo buyers.
* In my experience Alamy offers excellent customer service. They are also proactive when my images have been used without permission, contacting the offending party and working on a resolution to the problem.
If you decide to join Alamy, here are some tips that will help you succeed:
Pile on. I've found that having a large collection of images of a few subjects is better than having a few pictures of many subjects. For example, I have extensive collections of New Mexico, Puerto Rico and Peru, and I consistently sell images depicting these subjects.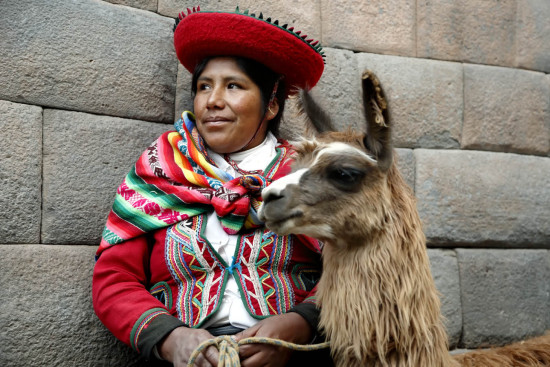 During a recent trip to Peru, I took a straight forward portrait of a local woman with her llama (above). Despite the fact that there are probably thousands of similar images on the market, I was able to license mine via Alamy shortly after my return. I believe having a large collection of Peru photos helped my image show up higher in the search.
Pick a color. Adding relevant keywords to every image is important for buyers to find your photos. Make sure to not only add the obvious keywords (subject and location, etc.), but also less obvious ones such as concepts (strength, cold, friendship) and even the dominant color of an image.
Feed the beast. Selling stock images is a numbers game. The more photos you submit, the more sales and money you make.
Establish a routine where you submit, say, 25 images a week/100 per month/1,200 per year, and try to stick with it.
Some weeks you will be on the road and unable to meet your goal, while others you will be able to submit a few more. The trick is to have a goal and continually work to meet it.
You can also check out this three-part series on selling stock photos with Alamy, Part 1, Part 2, and Part 3.
Good luck!
Selling Stock Photos At Alamy: Part 2
Last week, BSC reader Marianne Campolongo shared her story of finding success with stock agency Alamy. You can catch up here if you missed it.
Alamy offers one of the highest royalty rates in the industry, but some people never find success there…
Cracking the Alamy Code: Part 2
By Marianne A. Campolongo
In addition to a fantastic royalty rate of 50%, which I talked about last week, here are three more of my favorite things about submitting photos to Alamy:
1. Their "shoot what you love" attitude.
Don't you hate it when you upload a gorgeous image only to have some faceless reviewer reject it as "unsaleable," "not up to our aesthetic quality," or, even worse, because "we have too many similar images in our collection?"
As they state on their blog, even the most obscure subjects are welcome in Alamy's collection. Rather than pre-judge a photo's popularity, they let the market decide.
Uploads are randomly checked to ensure they are technically sound, but otherwise your creativity and vision are given free rein.
2. Nice & helpful people.
The people at Alamy encourage every photographer's success, whether it's helping obtain last-minute press credentials, replying promptly to emails, or going that extra mile.
I was out exploring Baltimore's Inner Harbor when my cell phone showed London calling. Alamy's assistant news editor greeted me warmly, enthused over the sunrise photos I had just uploaded before leaving my hotel (below). She then explained that the headlines and captions were inexplicably missing. Since I was out, she had me dictate new ones over the phone so I wouldn't miss the chance for a sale or cut into my picture-taking time.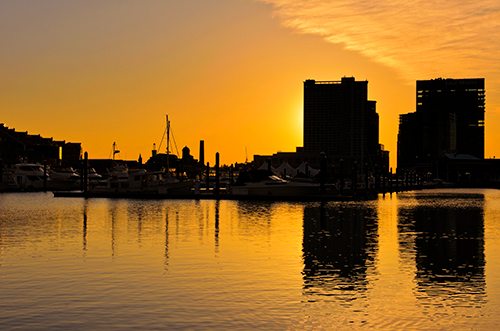 Sunrises and sunsets may be on every microstock agency's "oversaturated" list, but thanks to their hands-off attitude, Alamy is happy to take them.
My Baltimore sunrise did not sell that day, but Alamy later licensed it to a hotel website, which leads me to the next thing I like about Alamy…
3. Editorial is their strong suit.
Long known for the depth and quirkiness of their collection, Alamy is a go-to agency for editors and web designers seeking out photos of small towns and out-of-the-way places. The sleepy Connecticut seaside town where my family has summered for decades is slowly waking up. This shot from 2006 is part of a series that landed on a local realtor's site in 2015, for $45 per image.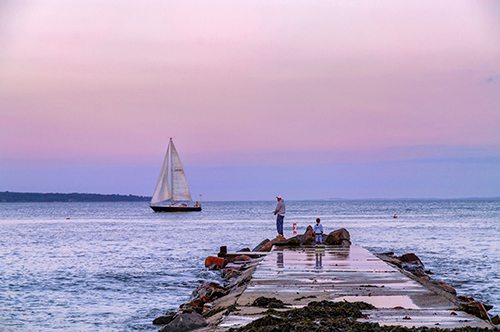 Bad weather sells great as editorial, too. It didn't cover my deductible, but this photo of my car after Hurricane Sandy fetched over $96 in March, four and a half years after the storm.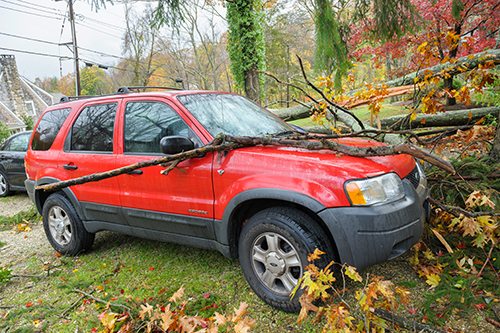 As you can see, I'm very happy with my decision to stick with Alamy, even though it can take a while to make that first sale.
Next week, I'll share some tips for upping your sales there and making it work for you, too.
Selling Stock Photos At Alamy: Part 3
The past two weeks, we've followed stock photographer Marianne Campolongo on her journey selling photos through stock agency Alamy.
Today, we'll end this series with her top five tips for success. This is tried and true advice from someone that's been with Alamy for 9+ years and I can't thank Marianne enough for sharing her story with us!
By the way, if you missed her previous two articles, you can catch up here and here.
Cracking the Alamy Code: Part 3
By Marianne A. Campolongo
Some Hints for Success at Alamy
1. Avoid doubling up.
Uploading the same photos to Alamy and your other microstock sites runs the risk of price-sensitive buyers finding the photo on Alamy but then licensing it for far less elsewhere.
Alamy invited New York area photographers to meet with their president, staffers, and clients shortly after opening their Brooklyn office. They gave us advice on maximizing our portfolios. One client said they didn't mind paying Alamy's higher prices to get the right photo, but they always searched a less-expensive site before completing a sale, in case they could find the same photo for less.
2. Consider the benefits of Rights Managed licensing.
With Alamy, you decide whether to offer a photo as royalty free or rights managed. With most stock agencies, your photos are licensed as royalty free. When you go rights-managed, you have more control over your image. You get a renewal fee if they want to use it after the original term ends. You can also get paid twice up-front for the same photo if it will appear, as one of mine did, in the frontispiece and an inside chapter of the same book. It is also easier to chase down infringements.
Some clients prefer rights managed, since the higher cost means fewer people have purchased the photo – thus making it more exclusive. But other clients prefer the ease and low-cost of royalty free. I suggest a mix of the two.
3. Don't limit your portfolio.
Although editorial does well on Alamy, don't limit yourself to submitting only editorial images. Travel does well on Alamy, as you would expect, but conceptual and still life photos sell better for me overall than editorial.
That said, not everything shines on Alamy. I have earned less than $1 selling backgrounds and textures there, a genre that has earned me over $2,000 on microstock sites like Shutterstock, which is where most designers seek them out.
4. "Alamy Measures" is solid gold.
When you're logged into Alamy, click the Alamy Measures tab towards the bottom of your dashboard to reveal many helpful statistics. Then drill down even further. The tabs labeled Your Images and All of Alamy just below the graph let you really mine for data.
Your Images shows actual client searches related to your images. When you click on each highlighted term, you see thumbnails of all your photos the client scrolled through for that search, with the ones they zoomed or purchased, if any, highlighted. Clients often save zoomed photos to a lightbox for future consideration.
How well are your photos placing? Are your keywords working? Are there tens of thousands of photos you're competing against or just a thousand or maybe even fewer than 100? Are people looking for your town, or your niche? With Alamy Measures, you can find out.
Many of Alamy's clients are book and magazine publishers, so they may do the same search a few times over the space of a month. Did the search bring up just a few pages of results where nothing was zoomed? Can you shoot a better photo and get it online quickly, in case they look again? I was headed to visit a friend and saw that someone had just searched for a small attraction in her town, viewing photos I took 10 years earlier. The afternoon I arrived, I took some new ones in late afternoon sunshine and again at sunset, leading to a $250 sale.
All of Alamy shows searches of the entire collection. Are people looking for a location near you? Perhaps they are looking for a concept you can set up and shoot. It is a great place to look for inspiration and discover what buyers are looking for.
5. Join the Forum.
While the staff of Alamy are awesome, you should also check out the contributor forum. I learned so much there when I started out and I value my peers' advice just as much today. Many have been shooting stock for decades and are willing to answer questions. If you respect their experience and are polite and friendly, they will be, too.
I hope these tips will help if you decide to give it a go with Alamy. Just remember, it can take a while to make that first sale, but in my experience, it's well worth the wait!