As a travel photographer, I've developed a tried-and-true approach to photographing a subject-rich locale under a tight timetable: first, I research the location to become familiar with it, then I draft a shooting list including subjects that answer the following questions: 1. What does the location look like? 2. What's a fun thing to do? 3. What's a fun thing to see? 4. What's a typical thing to eat? 5. Where do you stay? 6. What do you buy? I also add a wild-card to allow for (and encourage) flexibility while pursuing the other subjects on the list. (You can read a past article I wrote on capturing a city in six shots here.)  This is the perfect plan for capturing Santa Fe's many subjects (they don't call it "The City Different" for nothin'). Following is the first set of my Santa Fe photos: 1.    What does the place look like?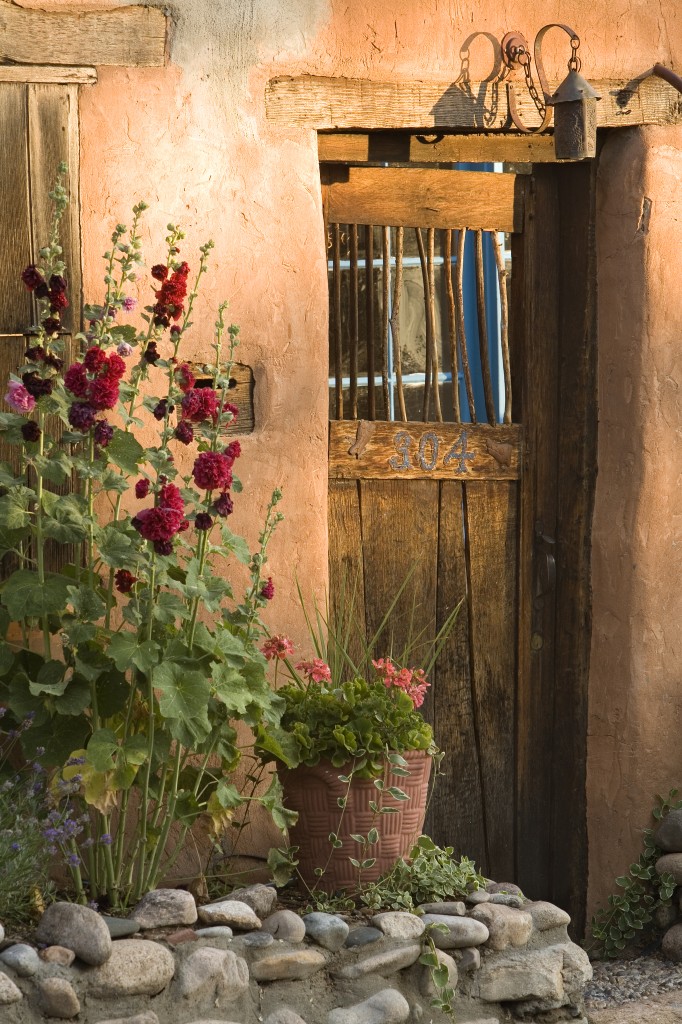 This is what some people call the "establishing shot," the big picture, and it gives the viewer a general idea of what a place looks and feels like. Since Santa Fe is a small town and does not have a skyline, the next best thing is to photograph a subject that captures what the city is about.  As you read up on Santa Fe in preparation for your visit, it becomes quickly apparent that Santa Fe is about traditional adobe architecture with a very organic and country feel. A scene capturing some of these elements will help set the context for your image collection of Santa Fe. The image here depicts the door of a simple house on Canyon Road, Santa Fe's main art district. Though not a traditional establishing shot, its elements—adobe construction, wooden door, rustic feel–capture the essence of the city. The picture was in fact selected for the cover shot of a local magazine. 2. What's one cool thing to do?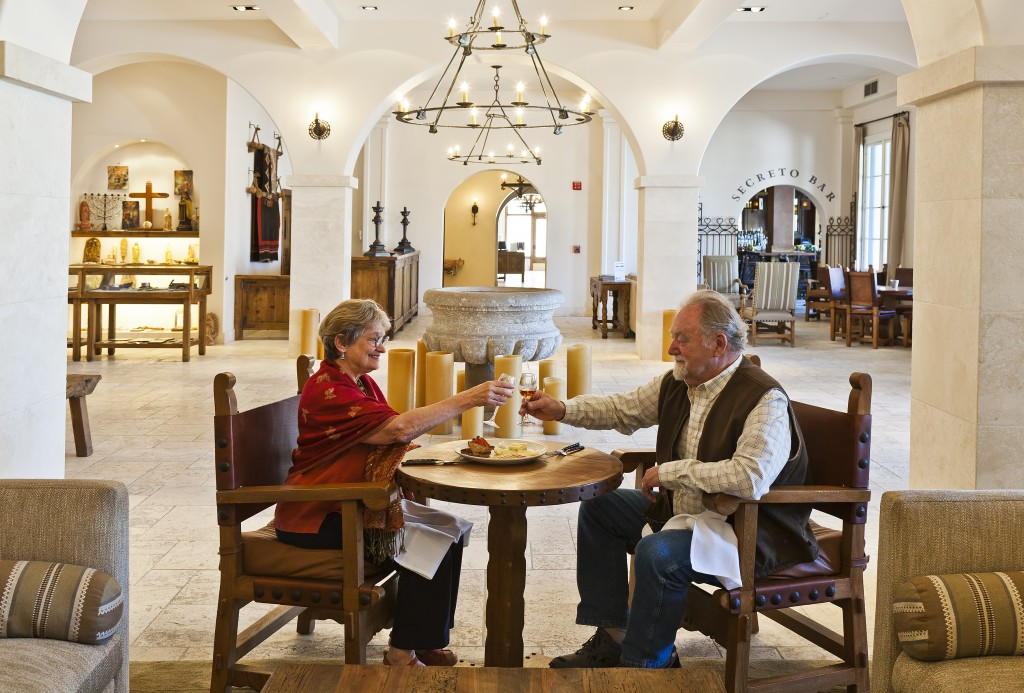 When you're feeling sophisticated, you simply must have high tea at the Hotel St. Francis. We're talking different kinds of tea, little cheeses, cookies, slices of fresh fruit, and the like. You are a photographer, of course, so I recommend going with a couple of friends and taking pictures of each other enjoying your refreshments. To cap-off a perfect afternoon, bring releases for everyone to sign and submit the images to your favorite stock agency when you return home. With a little luck you'll recover the money you spent at the St Francis, and maybe a little more. Pictured here (and looking very sophisticated) are my friends Dee and George. I was on assignment for a local publication and they graciously volunteered to eat all the (free) food the hotel provided while I photographed them and the surroundings. I think they left a small piece of cheese for me. Notice how I included a lot of the hotel's architecture, since the piece was more about the hotel than my friends. 3. What's a cool thing to see?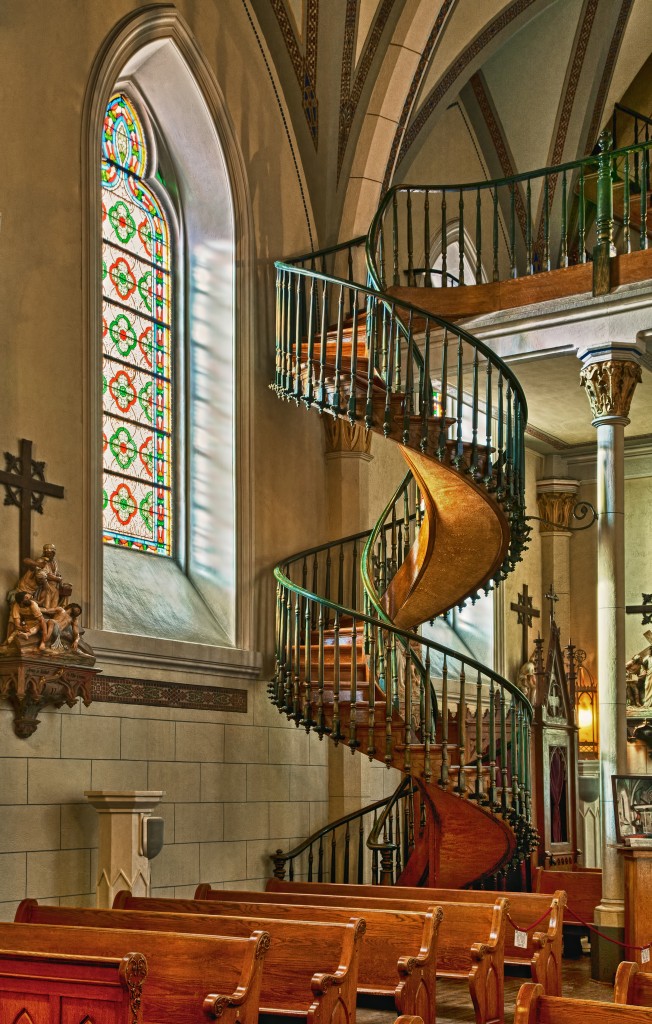 Because of the Spanish influence on Santa Fe (beginning with its name, which is short for "The Royal Village of the Holy Faith of St. Francis of Assisi"), you are never far from a church. Each place of worship in the city has unique and photogenic characteristics, but one of my favorite things to see (and photograph) is the miraculous circular staircase in Loretto Chapel. It's considered to be miraculous because it was built without nails or a central support beam by a carpenter called Joseph. Whether you are religious or not, it is undisputed that the staircase is beautiful and a work of art. It is also a very good subject to have in your stock collection; it has been a good seller for me. The biggest challenge when photographing the staircase is that the chapel is popular and small, meaning you will have to be patient if you want to take images of it without people. My advice is to take a few pictures with people admiring the woodwork, and stay a while and take a few pictures without. The good news is that it is OK to use a tripod. Just make sure you are quiet, respectful, and unobtrusive if you bring a tripod. Share on Facebook
Travel Photography Resources
5 Dos and 2 Don'ts for Travel Photography
Take Great Photos And Get Paid More For Your Travel Articles
Turning a Photography Hobby into a Monthly Income
The Pros Of Selling Your Images As Stock Photography
16 Mobile Photography Tips And Tricks Every Photographer Should Know