Thai cooking instructor Yui held up her hand and crisply snapped her fingers. "You want to crack an egg with one hand? It's just like snapping your fingers." Snap. As the slippery noodles soaked up their sauce in my wok, my Pad Thai was almost complete. All it needed was the egg which I was nervously preparing to open with one hand, per Yui's instructions. Crack, squeeze, and open, she told us. Don't look at your hand too much. Let the white dribble out first, so the egg doesn't explode when you pull the shell apart.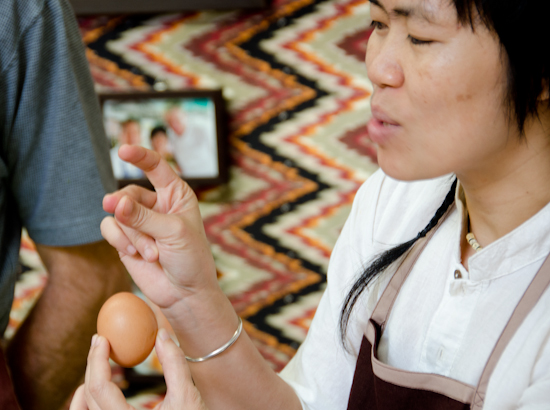 Notice that when you snap your fingers, your thumb presses up as your middle finger presses down.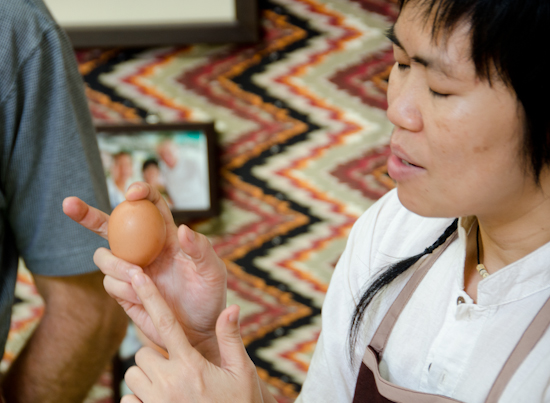 Now place the egg in your hand. Your thumb will press the top half of the egg up while your middle finger will pull the bottom part down.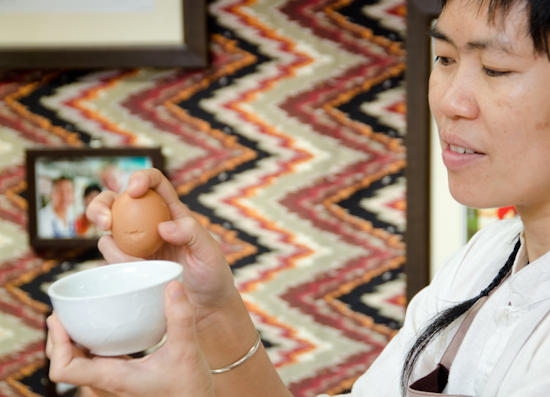 Give it a little crack.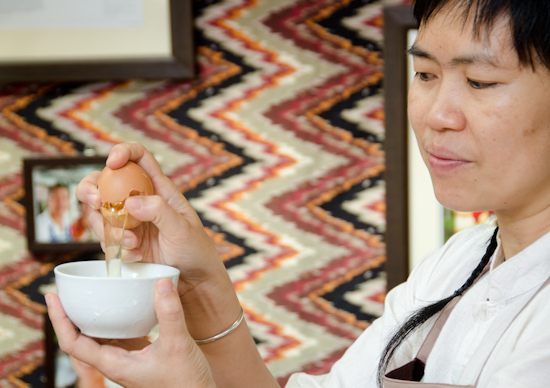 Let the white dribble out first to make room inside.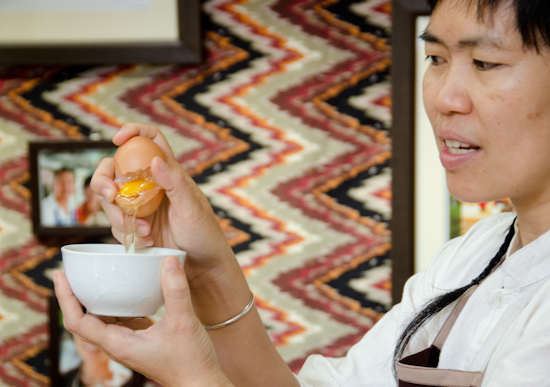 Squeeze and separate. Ta-da! Bonnie Caton, here, reporting in from the Thailand Photo Expedition where we just got back from a day-long cooking class and market tour. We started the day with Pad Thai, moved on to Tom Yam soup, cooked up some green curry with chicken, rolled our own spring rolls, and made ourselves a mango sticky rice with coconut cream sauce. And we ate it all. See more photos below. Another tip from Yui: Don't chop garlic. Instead, smash it by smacking it with the flat part of a big knife. Leave the skin on. Use small garlic cloves for more flavor and thinner skin. We followed her instructions, throwing ingredients into our crackling woks. In 20 minutes, we had Pad Thai so amazingly delicious that even the non-cooks in the room were heard saying, "I can't believe I made this!" Being here is so much fun. The people are beyond sweet. And the photo opps are endless. But the best part is knowing that I can write an article to go with the photos I'm taking and make a side-income just for being here… in Thailand… eating the best food of my life. The food today was amazing, but I think I'll write about the elephants. Tomorrow we're riding elephants into the jungle and visiting the tribespeople who live there. I'll send you some photos when we get back. I can also take and sell stock photos of my trip for an extra side-income. See this week's Breakfast Stock Club issue for the stock photos I'll submit from this trip. You can sign up for the Breakfast Stock Club newsletter here — it's free! It's a good idea to diversify your income opportunities on a trip like this one.  If you're taking lots of photos, use some of them for stock, reserve some to frame as fine art, and throw some others into an article that you write up on the place and your experiences there. As for fine art photography, I picked up a cool camera setting trick from professional photographer Rich Wagner that I'll share with you tomorrow — it's an easy way to make your camera work for you… so that more of your photos come out with the proper exposure, making them more saleable. This trick is great, because it makes shooting a LOT easier… and more fun, too. Until tomorrow, scroll down below to see more photos from our cooking class! — Bonnie Bonnie Caton Editorial Manager, Great Escape Publishing ——- Cooking Class with Yui from A Lot of Thai Chiang Mai, Thailand Class starts with a market tour, where Yui sets out to find the best Thai fruits and vegetables.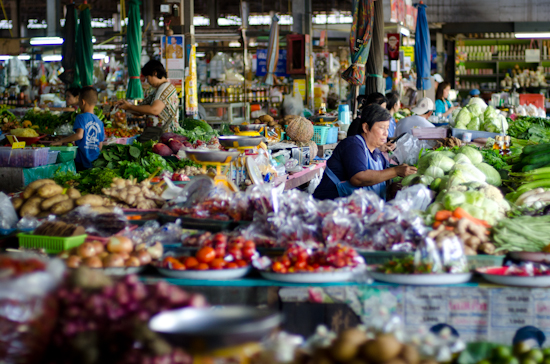 Our cooking instructor Yui in the market.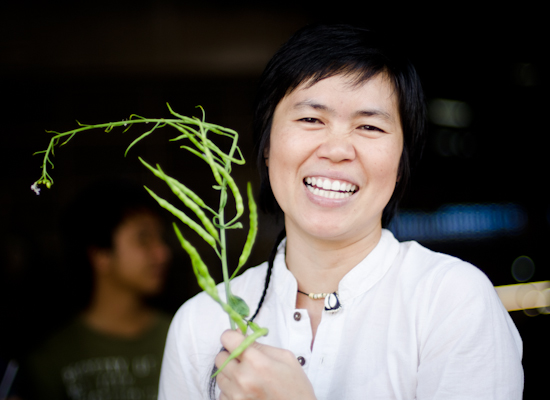 Fresh Pad Thai ingredients set out for us in the proper proportions.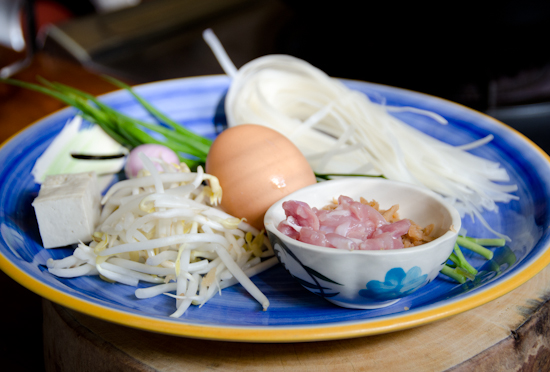 Here we are, donning our aprons and manning the woks.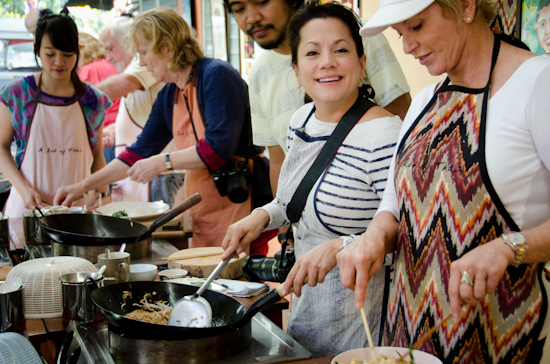 Workshop attendee Joe Swick and professional photographer Rich Wagner enjoying the Tom Yam soup they just made.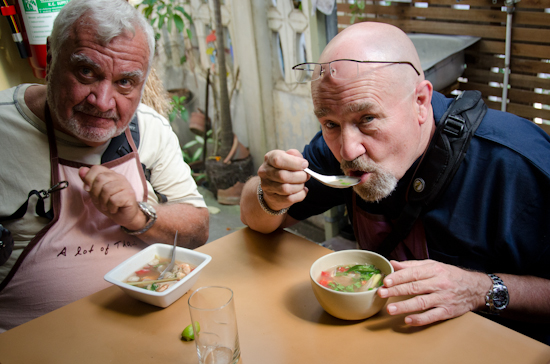 My delectable green curry — complete with garnish!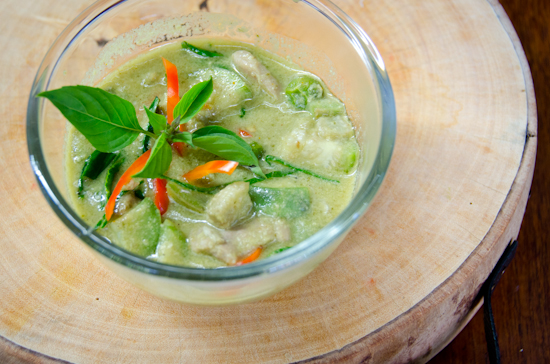 Tomorrow — elephants! Stay tuned for details and more pictures. [Editor's Note: Learn more about how you can turn your pictures into cash in our free online newsletter The Right Way to Travel.  Sign up here today and we'll send you a new report, Selling Photos for Cash: A Quick-Start Guide, completely FREE.]
Travel Photography Resources
5 Dos and 2 Don'ts for Travel Photography
Take Great Photos And Get Paid More For Your Travel Articles
Turning a Photography Hobby into a Monthly Income
The Pros Of Selling Your Images As Stock Photography
16 Mobile Photography Tips And Tricks Every Photographer Should Know