Several years ago, I ran off with my camera to Italy because my ex ran off with another woman.
The initial plan was to heal my heart on the Italian Riviera for a few days, before heading home via Rome, a week later.  
Upon landing in Nice, a friend picked me up in a rusted VW Bus and we made our way to Italy, rattling along the Coast Road through Monaco.  Crossing into Italy on the Autostrada, we headed to Portofino, where friends had a flat overlooking the harbor. 
The moment we entered the village of Santa Margherita we saw yellow, rose, pink, and coral shuttered buildings ahead in Portofino, surrounded by tropical gardens, mingled with cypress trees on hillsides overlooking yachts bobbing in the harbor.  My focus shifted instantly from heartache to picture taking.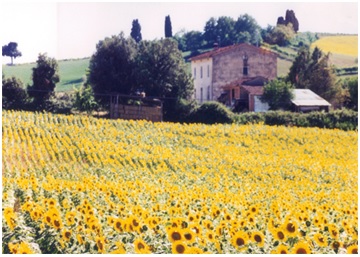 Quickly, I became obsessed with shooting new vistas from unusual perspectives. From the terrace outside my room, I captured a lone swimmer in the pool below, and shot yachts cruising into port beneath the pool.
When the free stay at the friend's flat ended, I went to Florence and rented a moped for a month's ride through the country. 
In the following weeks I traversed winding back roads from Florence to Rome, through sunflower meadows and ancient hill towns, taking pictures of rural life and vineyards in Chianti, and sleeping in convents near San Gimignano.
During that period, taking pictures of others' everyday lives, I forgot the sorrows of my life at home.
When I returned from Italy, a friend with a new job invited me to lunch. On a whim, I brought along photos from Portofino Harbor, and images of Tuscan hill towns to share. 
I had no idea that as the new president of a foreign language publishing company, she would want to purchase my pictures for upcoming textbook publications.
And since then, I've sold some of my Portofino and Tuscany shots as fine art, editorial and stock images enough times that the "heartbreak trip" not only paid for itself… it launched a new exciting career.
Travel Photography Resources
5 Dos and 2 Don'ts for Travel Photography
Take Great Photos And Get Paid More For Your Travel Articles
Turning a Photography Hobby into a Monthly Income
The Pros Of Selling Your Images As Stock Photography
16 Mobile Photography Tips And Tricks Every Photographer Should Know