As a wildlife photographer, reader Rosanne Tackaberry didn't expect to develop a side-niche in pictures of garbage.

But, lo and behold, her "trash formula," which she'll tell you about below, is stirring a lot of interest with photo buyers… and resulting in some hefty sales.

By the way, Rosanne makes up to a few hundred dollars

per sale

through her main agency, Alamy. Alamy works a little differently from the other stock agencies we talk about in this e-letter. Stay tuned for more about that in the next issue.

Until then, here's Rosanne, to "talk trash," below…

— Bonnie

Bonnie Caton

Creator, Breakfast Stock Club

Turning Trash into Cash By Breakfast Stock Club Reader Rosanne Tackaberry

My addiction to photography hasn't yet reduced me to dumpster diving to pay for cameras. It does have me photographing trash, though.

As a wildlife photographer, it all started while I was photographing seabirds. Since it was there, I also took shots of the marine debris that has become a part of their life cycle. Albatrosses mistake floating plastic for food and feed it to their young.

I submitted a few of the debris images to stock agency Alamy.com for editorial sales. Shortly after, to my surprise, I was contacted by the customer service rep of the agency with a request to see more.

Ever since, my photos of marine debris sell regularly. They've been licensed for use in textbooks, magazines and newspapers around the world.

When I'm shooting for stock, I now consider three steps in what I call my "trash formula" to choose subjects that will be competitive among the millions of photos available on agency websites.

Step 1. Put specialized knowledge to good use.

A stint as a waste management consultant long ago encouraged me to look beyond the birds I photographed… and capture their environment, too. Every photographer in the world can draw on their life experience and interests to give them an edge.

Step 2. Find gaps in coverage.

Do a quick search on stock agencies to find out what they DON'T have. I've had more success with subjects represented by hundreds of images than those with thousands or hundreds of thousands.

Step 3. Add new images in that theme to my portfolio whenever possible.

I'm usually landlocked, so don't shoot marine debris very often, but I can find other "trashy" topics at home.

After a devastating flood in my home city of Calgary this summer, I wanted to make a personal contribution to relief efforts. I decided to photograph the flood and donate proceeds of stock sales to local charities.

The most dramatic images are of high water overtaking the city. However, I saw hundreds of similar images on the news so I made sure to photograph other aspects of the flood as well.

I was delighted when my stock agency statement showed three sales of flood-related images. Two were of — you guessed it — trash! And one was licensed for several hundred dollars for both cover and internal magazine use.

I later found out that the photo (below) was licensed by a magazine for insurance brokers and used on the cover.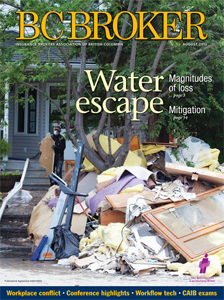 So, on my next trip you might find me visiting the local landfill as well as the wildlife hotspots.
Your Weekly Breakfast Dish
The Latest from Your Breakfast StockClub Facebook Page
Readers are on a ROLL this month!!
From Deidre McConnell:
Coming late to the party. But discovered I had had a nice sized sale, which got me going. I have loaded 7 images, all from going back and reviewing. So far acceptances are good. Going to shoot some new stuff on the weekend… maybe the first snow. I WILL make the 15 upload mark and meet the Challenge.
From Luc Brousseau:
I finally uploaded 10 pictures on Shutterstock tonight. Will probably try to upload on other sites tomorrow. I'm still waiting to become contributor! Also wrote two articles with pictures in the local newsletter this month. (French newsletter).
From Samara Bauer:
I checked my e-mails this morning an found that I've been accepted at CanStock. (I applied yesterday) 🙂
From Marianne Campolongo:
I was excited to get a photo accepted to the Dreamstime assignment – It's one I really love.
Here's a link to a blog I wrote about it
. Keeping my fingers crossed that it gets some votes there are some terrific images there.
From Elizabeth Coughlan:
8 more accepted. That brings my total of accepted stock images to 23 this month. Thank you Bonnie, you have unleashed a monster! I have spent too long dabbling in this and that. Now my focus is stock photography. I am determined to do this every month. Focus, focus, focus…
From Theresa St John:
20/30/20 on 3 different sites. Editing more. There are not enough hours in the day. Writing some articles as well. So much fun though! Loving every minute.
Travel Photography Resources
5 Dos and 2 Don'ts for Travel Photography
Take Great Photos And Get Paid More For Your Travel Articles
Turning a Photography Hobby into a Monthly Income
The Pros Of Selling Your Images As Stock Photography
16 Mobile Photography Tips And Tricks Every Photographer Should Know