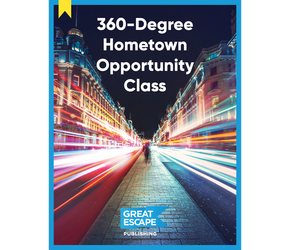 NEW! Get in on the hottest new emerging photography trend with our 360-degree Hometown Opportunity Class.
We've known about 360-degree photography for years, but it's only now we're seeing its income potential…
Cafés, tour operators, hotels, concert halls, colleges and more all want to showcase what they have to offer and the "virtual tours" these images create are the best way to do it. With just a little instruction, and the right kind of gear, you can easily create 360-degree photos and sell them to local businesses in your hometown… or beyond.
---
NEW! Get the Point, Shoot and Profit: Photographer's Workshop Package and discover all the tips and secrets shared by the professional photo experts at the live event.
Discover the pros' tricks to make photos that sell…set up a passive income from your images…and earn while you do something you love
This package puts the very best of all two days of the workshop in your hands—and you'll be ready to start making money from photography.
---
NEW! The Photographer's Starter Kit is designed to guide you from zero — knowing nothing about cameras or photography — to being able to take pictures with confidence and put them up for sale.
Step-by-step, it coaches you through setting up your very first snapshots, doing your first photo edits, choosing the best markets for your photos, and making your first sales.
Everything has been distilled into bite-sized instructions that are super easy to follow. And you'll get a real sense of progress with each and every step you complete.
And, since it allows you to start from home with as little as a smartphone camera, it's incredibly popular.
---
With Point, Shoot, And Profit: Turn Your Photos Into Cash, you'll get access to convenient, downloadable chapters (that you'll be able to access from anywhere online!) and instructional VIDEOS showing you simple, proven techniques to selling your photos faster than ever.
From day one, you'll gain the skills you need to create saleable photos – fast, so you can start earning before you finish the program.
---
Start up a passive income with your photos in just three days
With online stock photo agencies, you can sell the photos gathering dust on your computer…or the pictures you shoot fresh starting today.
Part of being a part of Snap & Sell Photo Club means starting off on the right foot, knowing exactly what images to send in first… which agencies to start with… and getting continuing support and ideas as you build your income into the future.
---
In The Ultimate Travel Writer's Program, you'll find…
Four ways to write headlines that will get an editor's attention…
How to avoid the single biggest mistake most new travel writers make…
Travel article templates you can follow that outline what to write first, second, third, and so on, cutting hours off your writing time and years off your learning curve…
How to come up with story ideas that will sell every time…
Smart tips and useful tools for interviewing hotel and restaurant owners on the ground…
How to bump up your writing income with photos…
And more…
---
This Power Hour is for people who want to take action and who are curious about how this whole photos-for-income thing works.
In order to keep providing smaller-priced Power Hours like this, there are no refunds.
Your $29 today buys you a behind-the-scenes tour of Bonnie's income and how she does it with goal sheets and printable step-by-step advice for you to do the same.
---
Inside the newly updated edition of Money-Making Travel Blogs, you can tap into all of six-figure blogger Paula Pant's secrets for turning your blog into cash… as well as the strategies other top bloggers use to grow their audience and earn a lucrative income.
Money-Making Travel Blogs will shave hours off your start-up time and all but guarantee your success.
---
If they shared a proven roadmap for success, the same many have used already…they answered your questions, gave you feedback, shared contacts… and they stayed right by your side, every step of the way… to guide you to success.
Well that's what you'll get at the Travel Writer's Café, when you join here today, you'll be part of a very unique group whose sole purpose is to support you in getting from where you are now… to where Noreen Kompanik and her fellow writers are now – that is: getting paid to travel and see your name in print.
---
As editor of the ITWPA Insider, your members-only newsletter, Kyle will send you practical tips about how to write better, travel smarter, and earn more… and timely on-trend advice for what's working in the industry right now.
Every issue is like a peek behind the scenes, keeping you fresh and current with what's happening in the industry.
---
The $5,000 Plan for New Travel Writers: A Quick $7 Blueprint for Getting Started
Travel writing is hands-down the best way to fund your dreams of travel and adventure…
Tim Cotroneo told us once that he became a travel writer because he fell in love with the Turks and Caicos and he wanted a way to go back there every year without having to pay for it.
---
Tom shares everything you need in our Travel Videos for Profit program.
You'll gain access to all his years of insider advice, know-how and contacts…
Plus, when you sign up here today, instead of a go-it-alone program, Tom has agreed to take you under his wing and make himself available for questions and motivation.
---
House and hours of Lightroom classes packed into a video library that gets updated every time the program improves.
Those images in Condé Nast and National Geographic that you pore over with envy — you can bet they didn't come out of the camera like that. The photographer added the "wow" afterwards, using a processing program like Lightroom.
He turned the gray, hazy sky a bright blue. He added sunbursts from behind the clouds. All with just a few mouse clicks!
This course is not authorized, endorsed or sponsored by Adobe, Publisher of Lightroom and we do not receive anything from them, we just think this is best option for editing.
---
ONLY $159 WHEN YOU ORDER NOW!
Travel writers, photographers, and bloggers ready for celebrity treatment.
You don't need to become a specialist on Facebook, Instagram, or Twitter to have tourist boards sending you invites and editors seeking you out.
What you need is the simple formula that unlocks the power of these platforms… and I'll give it to you, here…
---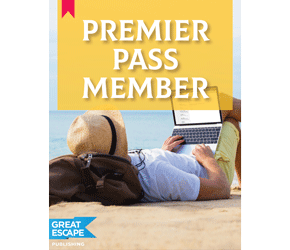 What if you could take all of your skills — even skills you may not know you have — and combine them into more income, more freebies, and more fun?
Here at Great Escape Publishing, we're in the business of finding the best opportunities for everyday people like you who want to break out of the norm and design exactly the life you want.
And if you're looking for the MOST income, while having the MOST fun possible, here's what to do: diversify.